I bought a dress Tuesday evening. It's silk and it billows, the cut loose, elegant, harkening flappers and 1930s France. The print seems sampled directly from a Wes Anderson film. Featured in the image above, it has a Jerry Garcia merman with sunglasses and a ping pong paddle rippling regularly across the silk. The design house, La Prestic Ouiston*, hails from a family that maintains a traditional oyster farm in Brittany. The brand's manifesto celebrates "craft, tradition, virtuosity, always [seeking] to work and to hightlight** the craftsmanship of artisans by producing unique pieces such as garments with embroideries hand-made in Rwanda or clogs made in Brittany and painted in Paris by an artist." It's a small brand that proclaims the local, that "dedicates itself to the return of slow fashion." The silk is infused with mists from the nearby salt marshes in Guérande, it billows brine gusts and ocean raked into flat white squares. Eyes closed, I imagine walking in merman silk barefoot, bare legged, over the desiccated marshes, shaved salt embedded flake by flake into foot arches, falling flake by flake back to a new place of rest, ever migrant with the opalescent tides. Oysters turgid under rugged shells, their taste reminiscent of our common ancestry as ocean. Sweat and blood betokening a past too old to be remembered but by cortisol and heartbreak.***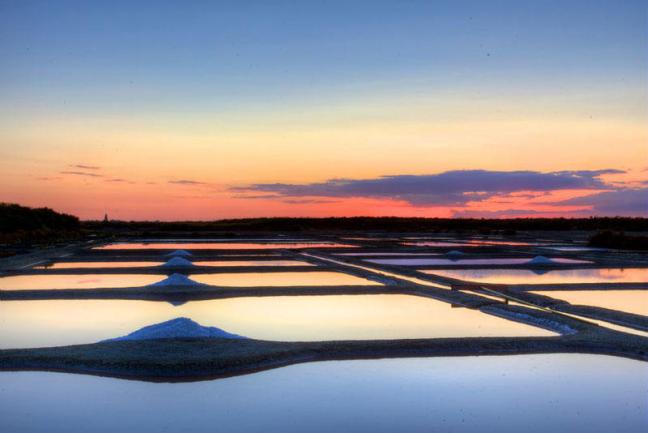 I purchased the dress at GASPARD, my favourite clothing boutique in Toronto. The owners are attentive and visionary; they comb the world to find designers with beautiful clothing backed by stories and introduce their unique clothing to Toronto. The first time I visited, I immediately felt the ease and grace of a new relationship. I told Ayalah, who was working at the boutique when I bought the dress, that I speak in public frequently and was excited to wear such a rad dress on a panel the next day. She invited me to send photos in the dress to Richard, one of GASPARD's owners, as it was currently his favourite. And then she asked if work ever paid for my wardrobe, given my public-facing role. I laughed the idea off as absurd, as I work for a small startup and can only imagine what our controller would think if I included a line item for a merman dress on my January expense report.
But her suggestion sparked an idea. How awesome would it be to collaborate with a design house like La Prestic Ouiston on a wardrobe for talks and public appearances, to design an identity either tailored to or able to challenge an audience, in the same way that, as speaker, I shift my approach, content, and tone depending on whether I'm addressing a super technical artificial intelligence research audience, a super practical business audience who need just enough technical detail to feel empowered but not so much as to feel alienated, a passionate and righteous sociology and critical theory audience who want to unpack the social implications of new technologies and do something to fix them, or a muted, constrained policy audience fascinated by the potential of a new conceptual framework to think about what it might mean to regulate AI but trapped within the confines of legal precedent and the broad strokes of the electorate?
What I imagine isn't sponsorship à la Tiger Woods or pick your favourite athlete. It isn't trendsetting or luxury branding à la pick your favourite actress wearing Alexander McQueen or Dior or Armani or Gucci or Carolina Herrera on the red carpet at the Oscars. It's more like Bowie or Lady Gaga or Madonna, Protean shapeshifters whose songs and performances embody a temporary persona that vanishes into something new in the next project. I imagine a collaboration with an artist or designer. Couture not as fitting a dress to individual proportions but as context, each performance exposing its roots, not just measuring bust and waistlines but identity and persona, my providing constraints and parameters and abandoning myself to the materials, shapes, patterns, folds, twists, buttons, sleeves, lengths, tones, textures the designer felt appropriate for a given performance. Not unlike the dance between authorship and abandonment Kyle McDonald experiences in algorithmic art, where the coder sets the initial parameters of the algorithm and experiences what results. Design a mode of creation girding both fashion and product marketing, both ethnographies of what exists today, techniques to tweeze out mental models that guide behaviour and experience and emotion, but that always go beyond observation, that infuse empiricism with the intuition of what could be possible, of how today's behaviours could be improved, changed, optimized to create something new.
I knew from the outset the idea would be polarizing. Fashion and brand sponsorship is at home in sports because athletes are more than athletes; they are cultural icons. It's at home in entertainment, where physical appearance and beauty are part and parcel of stardom, whether we like it or not. But it's not at home in math, quantitative fields in academia, or technology. Which is why the topic is thorny, uncomfortable, interesting.
I was concerned about the potential negative reaction to the very post I'm writing (you're reading) so shopped the idea with a few people to tally reactions.****
Those in fashion were non-plussed: "Fashion x public figures is as old as bread, it's just a question of finding someone up for a collaboration."
The way I engage with my younger, technical, male colleagues inspired a presentation of the idea as an act of badass empowerment. They saw and heard what they normally see and hear from me. I could have been talking about research. I could have been talking about speaking on cybersecurity to a bunch of generals. They didn't hear me speak about fashion. They heard the persona I embody when I work with them, one where I am at once trusted mentor and role model for the leadership positions they want to occupy someday. My being a woman in amazing clothes on stage was a means of embodying something empowering for them, perhaps even masculine.
My ambitious, female colleague, passionate about diversity and inclusion and also interested in clothing and style, said, "gosh, can I do that too?" She and I inhabit our positions as strong women in technology differently. A jack of all trades, she owned branding efforts early on and got excited about the prospect of our having bright pink business cards. I was appalled, as I couldn't imagine myself giving a bright pink business card to the scientists and executives I typically engage with at conferences. At the time, I felt it was important to deliberately embody androgyny, but elegant androgyny, to wear a-lines and black and neutral professional clothing, but nonetheless extremely feminine clothing, this subtle dance that both erases and underlines gender, but that is so much different from the direct statement of hot pink. Grappling with the difference teases out the subtleties here.
Friends who openly eschew gender essentialism commented on the thorniness of the issue, likely engaging with my own hesitation, which muted the brazen excitement I embody with my younger colleagues. Here conversations waxed consequentialist, focusing on the fact that, whether intended or not, deliberately collaborating with a designer would reinforce stereotypes aligning women with clothing, while brogrammers perform nonchalance in, well, standard brogrammer garb or icons like Steve Jobs perform aestheticism that indexes the life of the mind by donning plain black sweater uniforms. I worried.
Some admonished me for pursuing the project, commenting on my responsibility to the brand identity of the various organizations with which I am associated professionally. This harkened the split ethical imperatives I explored in Censorship and the Liberal Arts. For indeed, as professionals we sign a social contract where we trade unadulterated free speech and expression for the benefits of collaborating with others to build something and do something we'd be unable to accomplish ourselves. But the line between personal and professional brand is anything but clear, and varies greatly between companies and contexts. As evidenced by his world-class out-of-office emails*****, my partner John Frankel at ffVC falls a few standard deviations from the norm, while also insisting on rigour and consistency on the firm's positions on investment theses. Friends in government rarely express their personal opinions, ever beholden to their duties as representatives of a public body. This forces the question of how much the integrate.ai brand, for example, stands for personal expression. The nuances here are as delicate as those related to feminine identity: it's our responsibility to embody the brand that supports our business goals, but I've always found that success emerges from the breath of fresh air promoted by authenticity.
What do I think?
I doubt the collaboration will come to be, at least not anytime soon. I spent a few days inhabiting an imaginary potential, thinking about how fun it would be to co-create outfits for different performances, one day a boxy Yamamoto, the next a flowery Dior, the next a Katharine Hepburn-inspired pants suit to index a potential future in politics. I remembered all the articles about Marissa Mayer's style back in 2013, the fact that her having style was news for the tech industry. I reread Susan Fowler's post about her disgusting experience at Uber and found another very touching post she wrote about what it feels like to be someone who "wants to know it all," who lacks a singular destiny. I imagined peppering this post with myriad quotations from Ellen Ullman, my new hero, whose Life in Code I devoured with the attention and curiosity spurred by feeling prose so much in line with my own, by reading a vision of what I'd like to write and become.******  I thought about the responsibilities I have right now as a pseudo-visible woman in technology, as a pseudo-visible woman in venture, as a woman who doesn't write code (yet!!) but serves as translator between so many different domains, who struggles with her identity but wouldn't have it any other way, who wants to do what's right for the thousands and thousands of young women out there watching, dreaming, yearning, ready to do amazing things in the world. I just want them to be themselves and not to fear and to create and to be free to become. To have a voice to shape the world. And to fucking wear beautiful clothing if that makes them happy, and alive.
I wore my merman dress on Wednesday on a panel with my friend Steve Woods and the CEO of Wysdom.AI. The audience comprised mostly men; I felt they paid attention to what I said, not what I wore. On Friday, another strong female leader in the Toronto AI community told me she admires my style, and asked where I buy my clothes. I referred her to GASPARD, delighted to support local entrepreneurs making the world more beautiful.
---
* It took some digging to find the primary designer behind La Prestic Ouiston. Her name is Laurence Mahéo. She looks unabashedly at the camera in the photos various media outlets have posted about her and her spectacular, singular existence. Her head often tilts slightly to the side. She doesn't smile widely.
**Typo in the original (English translation from the original French).
***Isak Dinesen understood our oceanic roots, as in one of my favourite quotations: "The cure for anything is salt water: sweat, tears or the sea." I remember hikes up Windy Hill in 2009 and 2010, mourning the loss of my first real love, tears, and sweat, and sea all needed to get back on my feet, love that broke me, that altered my course in life, that changed my emotions ever forward, instilling both negative patterns I still struggle with eight years later and positive patterns, widening my heart and permitting expressiveness I hadn't known possible there prior. Memories fixed solid in my synapses, of such heightened emotional importance I will carry them with me intact until the day I die. He always knew that the self he saw and enlivened wasn't the current me but the me he saw I might one day become, knew I was helplessly addicted to this promised self, as I knew he was helplessly addicted to the child I recovered in him, personhood long silenced, but for which he desperately yearned and was grateful to remember existed as a kernel of possibility.
****I had a hell of a time writing One Feminine Identity exactly one year ago today (curious how those things work; my father had a heart attack exactly one year after his father died, as I commemorate in this post). I was dating an ardent feminist at the time, who criticized me for the lack of rigour and systematicity in my approach to female empowerment. His critique lodged itself in my superego and bastardized my writing. I hedged so as not to offend anyone with what I assumed were offensive positions. Then, two other friends read the piece and criticized the hedging! I learned something.
*****This week, John's out-of-office email featured this poem, which I sent to two colleagues as I felt they'd appreciate it:
Life is like a grain of sand;
it can slip through your fingers
at any time and be lost forever.
We must enjoy every minute
while we have it
in case that too
slips through our fingers.
Love is a fleeting thing
that passes all too quickly through our lives
unless we grasp it tightly
never letting it go.
Our lives are like a grain of sand
and will slip through our fingers
before we get to enjoy it thoroughly.
A Grain of Sand by David Harris
******Here is Ullman giving a talk at Google. https://www.youtube.com/watch?v=bCcVyuq9aRE
I took a photo of the featured image last Tuesday evening with my iPhone. The shadows arise from the ill-fit black plastic cover that partially covers the lens, tailored for a previous iPhone release. The tag on the dress indicates that the merman's name is Seb le Poisson. Seb is in the closet, awaiting his next appearance. I write in my pyjamas.