About a month ago, I started the Facebook Portrait Project. On July 31, I came to understand the following:
The Facebook Portrait practice yielded an insight today. I didn't know this before I started. I've come to learn it in and through the practice.
I frame the portraits through an anchor experience that is meaningful to me. They aren't fashioned from some neutral, third-person perch. I unfold love by identifying the essence of the emotion my subject-my friend-invokes in me, and then unravel the acrylic streamers from this emotional kernel.
But I've noticed that each person evokes a different aspect of myself and my personality. One person shares the practice of meditation. Another shares my taste in abstract art. Another shares my childhood, my deep history with ninja turtles and home video cameras. Another shares the simple joy of a beet folded into a rose on the dinner table, the elemental goodness of a meal shared with friends.
The Facebook Portrait project, therefore, is also a means of showing the self as a kaleidoscope. Of showing how our narrative is that much richer when it is viewed not as a series of selfies but as a series of self-portraits inflected through the presence and inspiration of those who love us, each person amplifying a different parameter, a different feature. Each person activating a different potential.
The composite of all the portraits is a type of self portrait. But it shows a self in context. A social self. Not a self as monad.
The practice is indeed spiritual.
I do believe this. Our core philosophical task in the early 21st century to unravel the self, this construct we inherited from Humanism, and recover the fluidity of sociality and ecosystems and organisms big and small.
But it's also overthinking it. I write the portraits because I like writing them. It's joyful. I like touching people. I like remembering things I had forgotten as I unpack the intuitions that frame the portraits. I like how it's a form of meditation. I like how it doesn't hurt because I don't feel pressure to perform.
Here is the second batch of portraits. I'm currently planning to share them in batches of 5.
---
Portrait 6: Alisa Wechsler
While not of my blood, you are my sister because we are both at our happiest eating smoked whitefish and sturgeon.
While not of my blood, you are my sister because we have walked the same path in life, both roll up our sleeves to share forearm scars, forever marks of creatives imprisoned, I muting me, you muting you, we together dampened by the cumbersome gaze of what we assumed would be expected, and was.
You are my sister because you left your scars in the backseat with the grocery bags and the milk spoiling in the muggy Jersey sun and walked into life with the kids.
My sister because you saw me for me. The situation begged skepticism, criticism, concern, but you allowed the apartment to silence the voices and clear space for compassion and connection. Perhaps it was the buffalo parchment embrace of the Wayang puppets Rama and Sinta in the alcove. Perhaps the still modernism of Albers above the dining room table. The white cowhide rug. You felt yourself in the design and this recognition of kinship peeled away the prior expectations of concern to see why it all made sense.
My sister because when we walked through the David Bowie exhibit, this proleptic funeral procession he prepared as his final act, we saw permission. We left the shame on the other side. We too were Pierrot in Turquoise, were Ziggy Stardust, were unleashed at last with Eno in Berlin in his screaming ode to the king and his queen loving one another ardently, free, finally, pure, if only for one day.
My sister because I will care for your daughters and be their sister, too. I will keep their seeking eyes in my mind as I make my own choices, know there are young women watching, young leaders in search of a role model to show them what the world can offer and that the world can never keep them down.
My sister because of the constancy. Because we can flake out and be busy and need to take care of 65,000,000 things when we're on the east coast and christ the time gets away and we really wanted to actually connect this time and it's just not going to happen but it doesn't matter, there's zero resentment, zero concern, because I will always be there for you and know you will always be there for me, we're united inside the substrata, underneath the erosion of the world. We're inside the rocks in Arizona holding little girl hands, while outside the parched sun sweeps the lizards and the peyote.
My sister because who would have thought you'd be stuffing meat into a grinder with blood on your hands and sitting up straight in the meetings with the investors unabashedly demanding one more check. And they trusted you. They took a bet on you. They knew with someone as solid as you at the helm, money would flow.
My sister because you play the drums and have that silly purple car and somehow embody the rusty spirit of mullets and hair bands in 2018, but somehow make it fashionable.
My sister because the world will teach you about itself for your whole life. Because you hear its song. Because Gunner will be there with the dogs and you'll all transcend the wrinkles of time with Peter Pan minds. Because you no longer need a fountain of youth. You have freed yourself to be you, and come into love.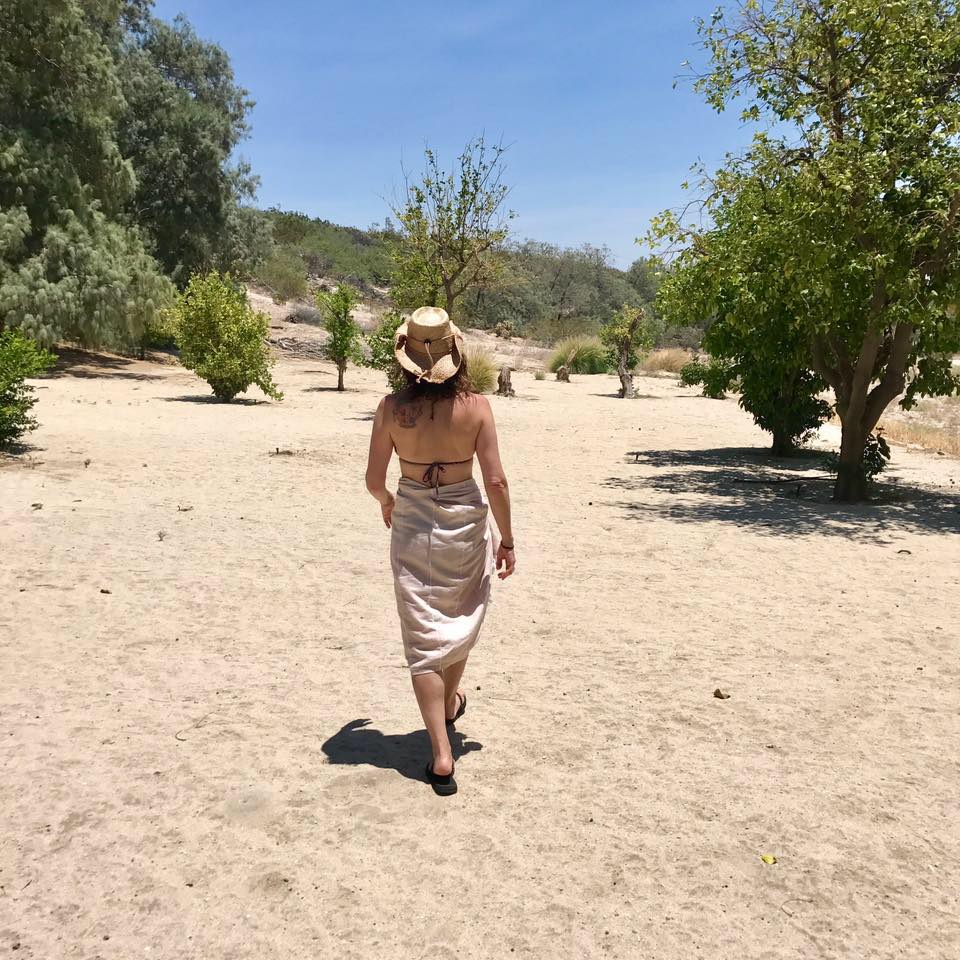 ---
Portait 7: Mike Hume
Should the ninja turtles (NTs) negatively impact one's mental well being, Mike Hume is screwed.
The NTs weren't a Saturday-morning cartoon in the Hume household on 27 Highland Drive, Apalachin, New York (spelling always tripped me up when we first learned geography at Tioga Hills elementary school, up the road past the Starners' house and then down the road on the left; my hair would freeze walking to school in the winter but I kind of dug it. Still do.).
They were a way of being.
Dad and Mike used to make these home videos of NT adventures, you know, some plot with Shredder and Crang being up to some shit. Dad had a moany Crang voice that may or may not be anything like Crang's cartoon voice. It was decidedly NOT anything like Pinky or the Brain's voice (side notes: Mike's and my favorite Pinky quote is, "I think I am Brain: his name would be far more politically correct as Jean-Claude van Darn."; Dad DOES have a Brain voice that comes out at Red Sox games in Fenway Park when he puts all of himself into a YEEES, either after some shortstop play is made or he has just punched the beach ball floating around so hard it goes to another part of the stadium; and I do believe the world would be a far saner place if Crang were the mascot for artificial intelligence, not the horrendous cognitive robots that litter the internet.).
I remember Mike being Raphael, although IMHO it would make way more sense for him to be Michelangelo, given his personality. The best part of the videos was the Warp Pipe with which the NTs would teleport to Shredder's lair. The Warp Pipe was a ceramic napkin holder in the shape of an owl. Raphael, expertly voiced by Mike, would stand inside and then we'd put in him front of the Macintosh Classic with the rotating laser screen saver, the kind that better damn well continue to illuminate the background of 2nd-grade school photos, or else the world really is descending into senseless chaos, and there must have been some voice over for the teleportation. Mike was way better than I was at NT simulation because he remembers EVERY SINGLE SOLITARY LINE FROM EVERY MOVIE OR TV SHOW HE HAS SEEN. It's insane. Like total recall. Sarah McManus (the love of Mike's life) can attest to this, and likely gets somewhat frustrated that Mike never says anything that isn't a quote from some movie, or a comment on the day's golf game.
The NTs in the home movies were the 6-inch-ish figurines. Then we had the 1.5-foot-ish figures that were a softer plastic and were more life size (calibrated to kid height). That means we didn't film them; they existed in the plane of our own reality. So Dad was at work and Jeff Valenta was over and we'd concocted a scenario where the very same home video camera that Dad used to film the NT home movies became itself Crang's vehicle (Crang is just a brain so he needed to be housed in something). Mike was Raphael, as always, and he took one of his golf clubs and like BEAT THE SHIT out of Dad's home movie camera. That was the end of our time making NT movies.
(Side note: Mike was on television when he was 2. It was at the B.C. Open, a PGA golf tournament that took place at the En-Joie country club in Endicott, New York from 1971-2006. Mike was caught swinging his blue tiny tikes driver, the cameraman commenting that he was destined to be a pro. Mike does have a nasty good drive. Side note 2: tiny tikes rakes, hoes, shovels, and spades were prominently featured as air guitars alongside the ray bans in the other Hume-family home movie series where our cousins played back up to Eric Clapton in After Midnight, again and again and again.)
The culmination of Mike's NT-centric childhood (besides Vanilla Ice teaching us life lessons about dancing, pants, and hair, BTW this song literally has a line that says "Lyrics, fill in the gap" - like he didn't bother to write the lyrics and forgot to update the template from the producer) was a trip to Disney World where we met the NTs who weren't just 6-inch figures, weren't just 1.5-foot dolls, but were 6-foot-the-real-deal-holy-shit-we-are-meeting-the-NTs-in-real-life guys! We stood in the crowd. Mike was 3ish, perched atop Dad's shoulders so he could have a better view when the NT van came around the corner. We have a photo of his face ANGUISHED with anticipation.
And then he disappeared. Mom was terrified - she'd lost her child in this huge crowd. But April O'Neil was clever enough to improvise. Mike appeared on stage in April O'Neil's arms. He had made it. Went from directing movies about NTs to destroying the video camera that made the same movies to being up there on stage for everyone else to see. He had triumphed. He had become ninja turtle.
PS - I love Mike more than anyone in the world. He makes my accomplishments feel special in a way no one else does. There's just something about his kindness. But he makes everyone feel this way. That's why he's like an addiction. People want to be with him.
It was his birthday yesterday. 31 and counting. Couple more greys. Love you, kiddo. So very much.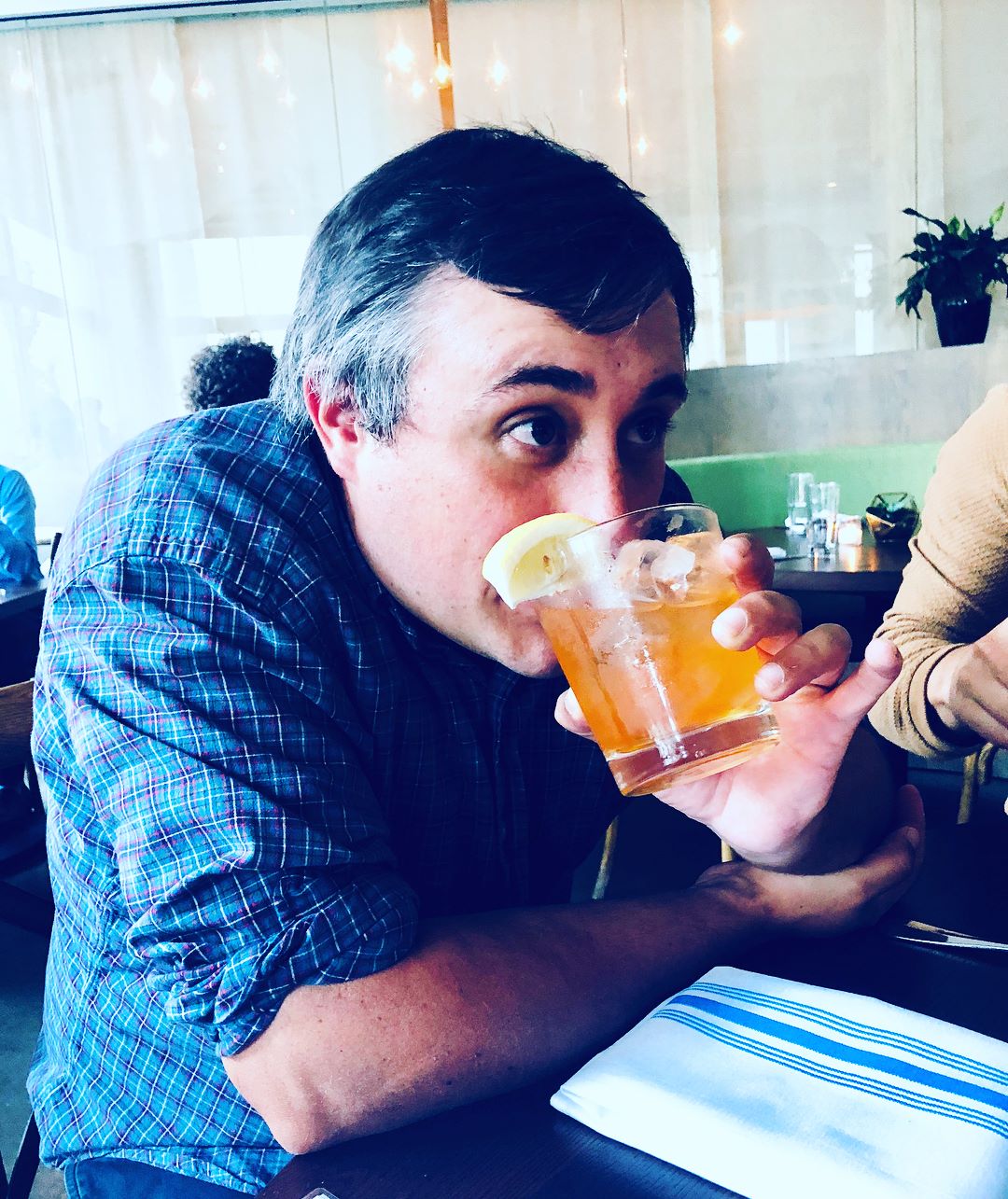 ---
Portrait 8: Donna Flanagan Gaspard
Just 28 minutes ago, I made a choice.
I had spent the morning hours working on my book and felt trapped inside an anxiety pocket, focusing on the outcome rather than the process, questioning the enterprise, the little anxiety homunculus in my brain clamoring to procrastinate, conjuring the self-broom brigade like Mickey in the Sorcerer's Apprentice, brooms sweeping self-doubt, self-criticism, self-hatred with the waterfall cadence of a machine gone amok.
But even in such moments, especially in such moments, we are invited to love. To return to the beauty of the process, the joy of creating, the immediacy that is always there, offering itself, open, not asking for anything in return, not needing any outcome. Just there. Like a mother's unconditional love, never requiring anything in return and patient through every foible.
I noticed it was Donna's birthday. I knew she would be touched by a portrait. I gave myself permission to devote the day's writing to her.
As I clicked open the dialogue box to start writing, I debated whether to take a moment to breathe, to meditate before diving in. A part of my brain resisted: "Get going. Write. Get to the outcome. After you have completed something, something, you can let yourself off the hook."
But this was for Donna. The thought of her gave me permission to step back. All I needed to bring to mind was the LinkedIn post she recently wrote about the healing power of breathing.
So, now 45 minutes ago (I think it's been about 17 minutes), I made a choice. I chose to breathe. To step back for a moment and observe the tension balled up on my quadriceps, in my hips, to release it as Donna sat there with me. And taking this time to step back helped crystallize what matters in our relationship. Helped me find her portrait.
Like Alisa, Donna is my sister. But our sisterhood is very old. It has had years to grow and change. Like all living things, it isn't constant.
I must have been 15 when I met Donna. I can't recall precisely. I do recall that the first time we met was at a dinner in San Francisco. My mother ordered a bottle of Pahlmeyer Chardonnay. There was an air of celebration that evening, if only because it was two women and an almost-woman experiencing life together. Donna sensed my dissonance. Saw a young woman who had power and strength, but who held herself back behind bars of pain. Without kids of her own, Donna had space to be the older sister I never had. Space to be my friend, my confidante, the person I could turn to to share thoughts and fears it would be wisest to hide from family and fair-weather friends. And being a sister to me would be an act of love towards my mother and, perhaps most importantly, towards herself.
So in the first phase of our sisterhood, Donna was the person I could turn to to explore the thoughts that hurt my mother and father, work through all the noise, all the tyranny of self-perfection and doubt. And she wasn't a pushover: I remember her getting frustrated a few times when I droned on like a broken alarm clock about how fat I was. Again and again and again and again.
But she was always there. She came back. She loved unconditionally.
In the second phase of our sisterhood, Donna introduced me to meditation. And to courage. She had decided to walk away from the rat race of a corporate career, a rat race even more difficult for women like me and her who don't have children of our own, and therefore often place even more of our self worth and identity in our professional success. Donna exudes a strength and grace at work. She holds herself tall (her posture is incredible) and has a slightly masculine energy that evinces power and reliance, resilience and cleverness. But she wanted and needed more from life. So she started to explore and her search led her to meditation. She had to courage to walk away from work and reinvent herself. And the wisdom to know that didn't mean she would never work in Corporate America again, but that life is long, and we can walk away from the race and return later, refreshed, strengthened, wiser.
During this second phase, Donna was a teacher who helped me begin my journey as a meditator. In Costa Rica, we found a private room tucked away from the noise of the house and lay down on the floor with our feet up on the couch. Donna put her hand on my stomach and showed me where to focus my attention. She helped me find the depths of my belly, deeper than my lungs. Her voice shared the wisdom that only comes with experience, the wisdom of meaning it. It was light and sprightly, like a young girl sharing her imaginary world. It was a voice that had found a sister, that knew she was teaching someone who wanted to listen. Someone who wouldn't judge. Someone who shared her pain and also wanted to find her joy.
And now, 20 years later, I have come to understand Donna in a way I couldn't when I was 14. For I too have lived.
In this third phase of our sisterhood, I can sit down on my yoga block and meditate and feel deeply within my heart the resonance of a kindred spirit. For I too am not yet a mother, so I now understand how meaningful it can be to have a younger sister to love and know and care for. I have sisters in Toronto, women like Shems and Lauren who are so dear to me and who are the me that I was for Donna (just a little older and wiser 

🙂). I haven't spoken with Donna for a while, but her presence is a given. Constant, unconditional, yet growing and changing as we grow through our own experiences. She in Arizona, me in Toronto.
The constancy of our relationship provides a miraculous perspective on what has changed and what remains the same. Like breath. Unnoticed, until we realize it is a gift.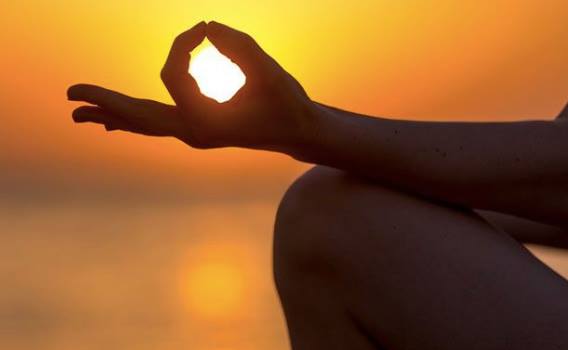 ---
Portrait 9: Lauren Deckelbaum
Encounter 1: I improvise my story. I conjure the nadir at the Women's Lunch Place in Boston, right wrist greasing practiced fluidity as I chop onion after onion to keep myself alive. I expose the hurt to give them strength and show how life stories switchback from failure to success, and back again. That struggle apexing atop a mesa of ease is a parched mirage copied, facsimile, from Roman Epics and Saints Lives. They smile; they applaud; they approach. And then Lauren comes. "I've noticed how many successful people meditate, and yet I can't seem to get into it myself." I invite her to my house. There was something in her eyes, in her voice. "I'll teach you."
Encounter 2: Fuck fuck she's like 10 minutes early and I'm still in my pijamas should I just open the door don't want to make her wait but christ I don't even know this woman oh well more awkward if she has to stand there outside my door waiting it's only grey sweatpants and the gingham Victoria's Secret sheath I stole from Mom like 5 years ago somewhat kitsch but whatever so "Welcome! So sorry I was just finishing up some writing when I heard you knock!" and she smiles wide and it's like it was meant to be this way and we exchange a few pleasantries but get right to it legs crossed I upon the couch she in the chair next to me and she's still not comfortable with meditating so she pulls the hat down over her eyes to block out the light and the world and I set the timer and we breathe and I feel ease next to her and I don't know for sure what she feels because I can't know can never know and that's the beauty of it all but when she opens her eyes and asks what I heard and thought about her voice is crystalline and calm.
Encounter 4: I rush into the inky WeWork at Yonge and Bloor only to notice stilton, cheddar, triple-cream brie, cranberries, walnuts, honey, all delicately aligned. My colleagues say it was a gift from a woman I know who works here. From Lauren. How lovely. How perfect.
Encounter 7: I show her what my heart creates. We eat shrimp and arugula, and drink Marsannay. She helps me understand who the words are for.
It complements the haze. It deepens it. The lighthouse repetition in the background, the delicacy of the violin like cormorant staccato in the milk-washed sea sky.
For how could it not be the subject, its fate sealed under barn owl wax in the damp Sunday, as mermen brandished ping pong paddles on silk sleeves? Your precision poaching oatmeal into the winter light, capturing its hue like cupped hands handle butterflies, keeping the wings intact, unharmed, this being so different from you, while you take pictures of white oak on black, on leather, creating your space, your home, your eye creating beauty in its wake, leaving the traces of you, if only I take the time to watch?
Encounter N: She comes to dinner with my mother, my aunts, with Will. We sample the pizza and wood brick chicken. Our conversation deviates from the group, as it's too hard to hear. But she is a deeper part of me now. A forever friend.
Encounter N+1: I come to dinner with her mother, her siblings, her friends. I sleep in her old bed downstairs, the house bleating kindness in its wake. We sit crosslegged and discuss how minds thwart intimacy. We hike the Montreal mountain. We talk about Carl Sagan on soggy cushions and slice Montreal bagels in time for the party. There is no judgment. It's home.
Encounter N + N: She gives me the ring with the face on it over dinner. I cherish our differences. I see Lauren for who she is. She is not a reflection of me. She is not something I want her to be. It is her way that has cracked the opening. I love her for who she is because of who I am when I am in her presence. A forever friend. She permits a space for honesty. She is fertile like the ground. She brings forth life.
Encounter N*N: She's in London this week. She'll grow and collect stories, share them upon her return. I'll think of her when I get stressed and my fists clench. I'll remember her ease and relax my shoulders inside its grace.
And in the future we'll watch our lives unfurl. I trust it.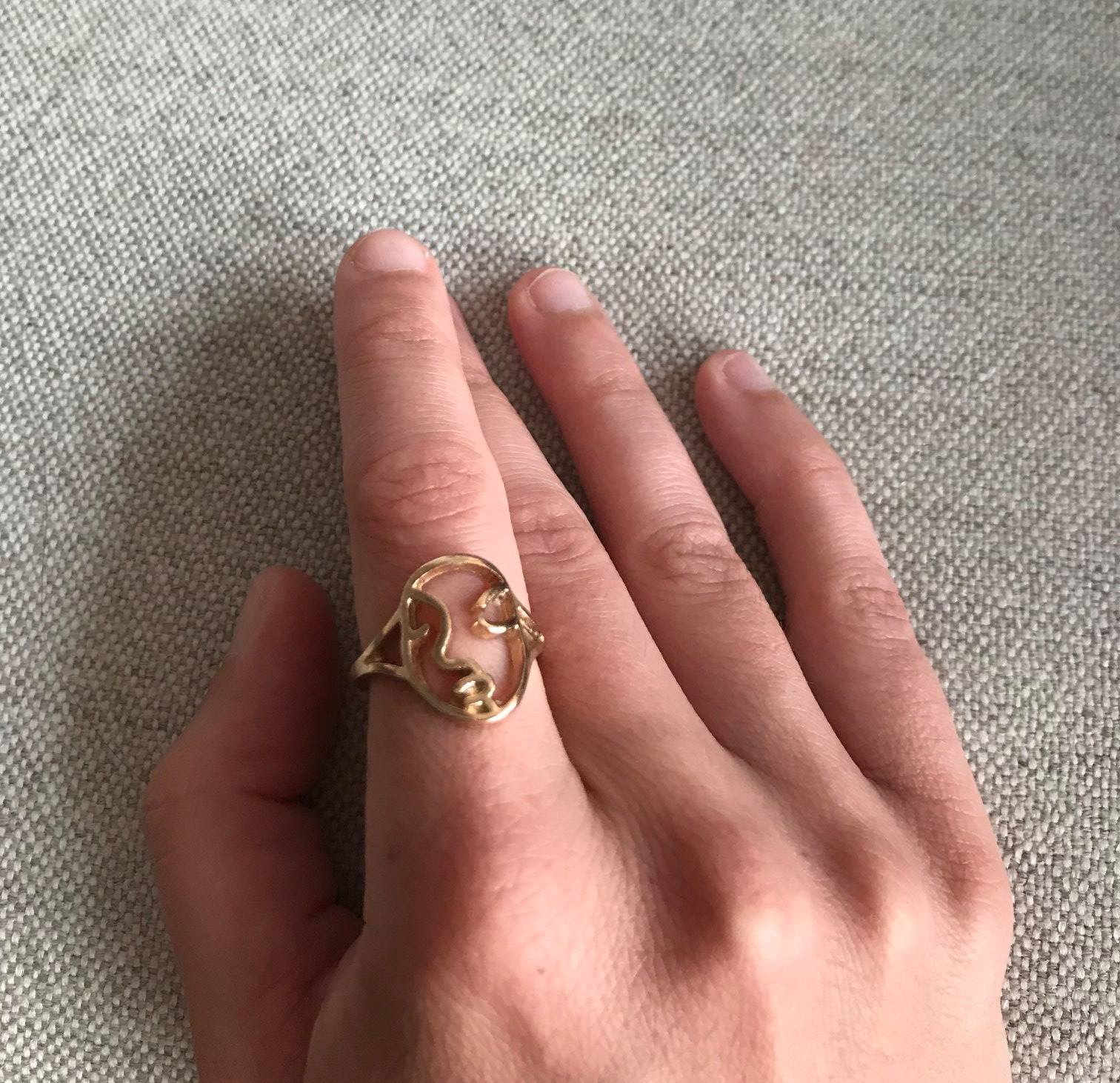 ---
Portrait 10: Allen Gebhardt
"To be exceptional is to be more god-like than most, whether that is a powerful deity of myth or the God who died on the cross of Christianity. Hume's kind of exceptionality is the opposite: he was more fully human than most, nothing more, nothing less. The virtues he expressed were not extreme ones of daring or courage but quiet ones of amiability, modesty, generosity of spirit, hospitality. Lest this sound like little, consider how difficult it is to live our lives consistently expressing such virtues." - Julian Baggini, in his recent essay on David Hume
Allen is like Hume: he is more fully human than most, nothing more, nothing less.
And for that reason-gosh, I'm hesitating as I'm quite overwhelmed by emotion-Allen is one of my most important friends. But that's not quite right. He's more like a guide, except that, because he is a Humean Human in its purest expression, he doesn't seek the power a guide seeks. He needs no acolyte. He craves no connection to heal or help. He is far too ironic and cynical to slip into demagoguery. What he does is listen. Without judgment. With generosity of spirit. And he is there, consistently, when a friend is needed. And he celebrates the journey with its freckled growth. As he has done with his wife and his sons.
I met Allen at a Law Firm Information Governance Symposium in April, 2014 in Washington, DC. He was working at Cooley at the time, had helped the firm transition from paper-based records management to the brave new world of digital squalor. We had dinner recently in San Francisco and he reminded me that the seed of our friendship was his making ironic jabs at my self-righteous pseudo-Marxist idealism. I'd completely forgotten, as is my way. What I remembered was that, for Allen, work was primary about people. He cared less about the what and cared more about the how, about the dynamics that make or break teams. He acknowledged the fact that careers are important for dignity and self-worth in contemporary society, but that the self didn't depend on professional success. That work is a means to stay busy and create value with others. And then it passes, fluid like time or the winding fragility of an Andy Goldsworthy installation.
Nonetheless, a connection was formed. And it grew.
One milestone was a dinner we had in the Castro in San Francisco. Classic diner-like American fare. Been around for years. I searched my email to find the name of the place only to notice a string of restaurants we've visited together since we met, Salero in Chicago, Vesta in Redwood City, AQ in San Francisco (now closed), most recently Heirloom Cafe, where I introduced Allen to Will. I don't remember what we spoke about over dinner. I remember Allen drove me to SFO afterwards and I fell asleep in the car. I was embarrassed. But Allen was flattered: he thanked me for falling asleep because it showed I was completely comfortable with him. We'd passed the threshold to forever friendship, like shifting from vous to tu.
Later, in late 2016, Allen taught me how to love. What I mean is that he helped me navigate a difficult situation I was experiencing with a former partner: I had to learn how to allow someone else to feel what they feel, to make their own decisions, to live how they chose to live, and to not entangle myself in another's self. I had to learn that if it all fell apart, it was ok, I would be ok. I had to learn that I, too, was able to feel what I felt, and could look at my emotions, observe them, take in their lessons, follow their footprints back to my childhood, know their source, see the habits they'd created, and free myself from them. I'd pace the Brooklyn streets, humidity curling my flyaways, Allen on the phone as my guide. I'd settle down. It was only a few phone calls, but they changed me. Now, each time I make a conscious effort to give space to another to be and feel and live and hurt and experience, Allen is present.
When I met Allen's wife Julie, the kaleidoscope spun into vibrancy. These lessons Allen shared had been lived and grown through his partnership with his wife. They seemed like an idyllic pair, exemplars of giving and openness and wisdom. Julie showed me a few photos from her popular Instagram feed featuring doorways in San Francisco. Her Renaissance was birthed by curiosity and charity. By walks in the city. Today others join. Julie's example gives others permission to be artists.
I have yet to meet Allen's sons. I'm sure I will some day. They seem extraordinary.
Allen and I spoke yesterday. He recently retired and is looking forward to his own Renaissance. It will emerge from spontaneity, in the spacetime crevices that widen when the hustle subsides. When we allow the sub-optimal. When there are no next steps. When we can err and wander, noticing the concentric circles that widen in rain puddles. His voice was joy. He didn't fear retirement in the least because he is at home in the world. He now has time unbound.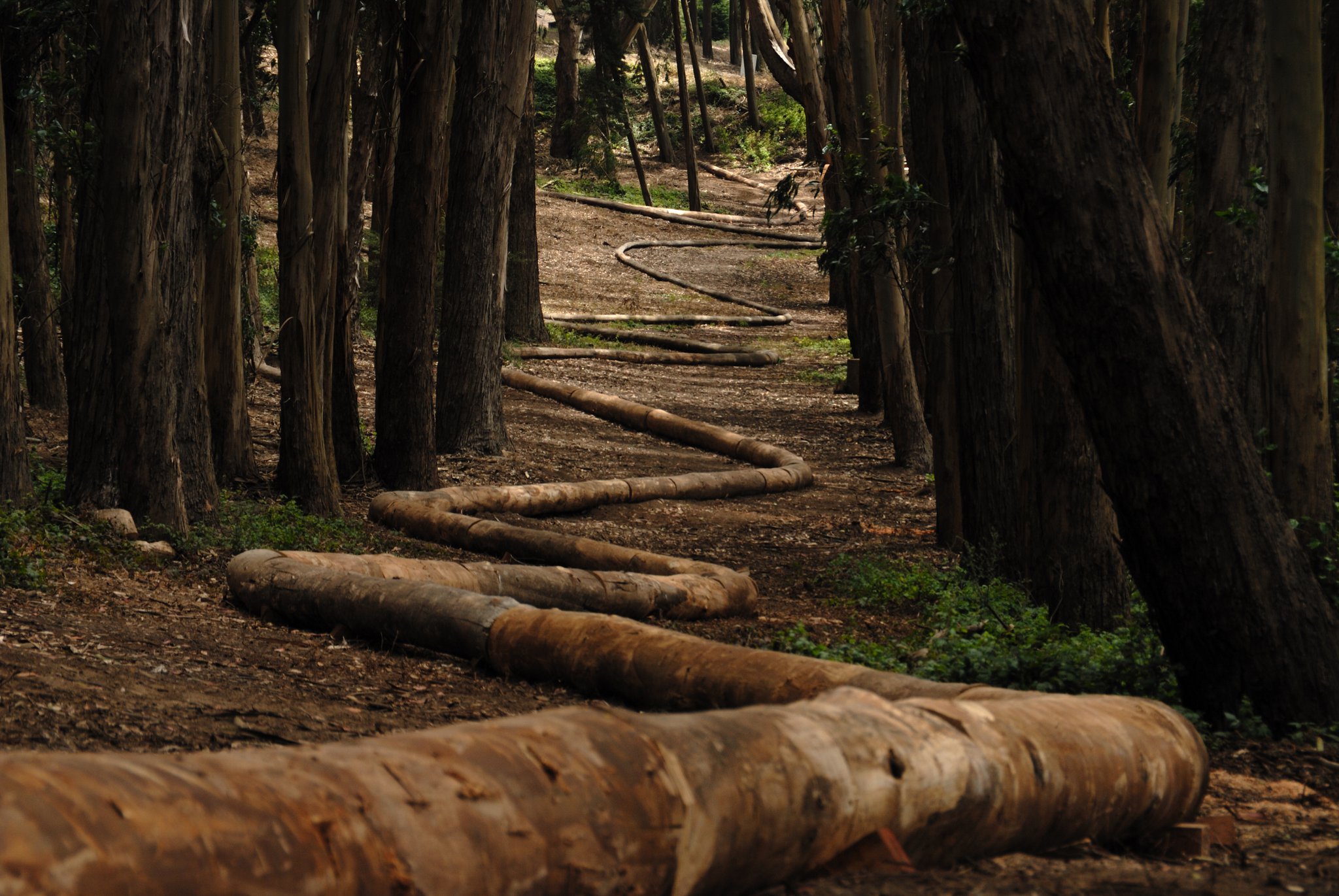 ---
More to come…
The featured image is of my uncle Anthony, my brother, and me. That is the EXACT look Mike had on his face when the Ninja Turtles came around the bend. You can see how self-conscious I was at having my picture taken, even when I was 5 or 6 years old.