On Tuesday, together with four fellow eloquent and inspiring women, I addressed an audience of a hundred and fifty (I think?) odd young women about becoming a woman leader in technology.
I recently passed a crucial threshold in my life. I am no longer primarily a seeker of mentors and role models, but primarily a mentor and role model for others. I will always have mentors. Forever. Wherever. In whatever guise they appear. I have a long way to go in my career, much to work on in my character. Three female mentors who currently inspire me are Maura Grossman (a kickass computer science professor at Waterloo who was effectively the founder of using machine learning to find relevant documents in a lawsuit as a former partner at Wachtell); Janet Bannister (a kickass venture capital partner at Real Ventures who has led multiple businesses and retains a kind, open energy); and Venerable Pannavati (a kickass Buddhist monk and former Christian pastor who infuses Metta Meditation with the slave spirit of Billy Holiday, man it's incredible, and who practices a stance of radical compassion and forgiveness, to the point of transforming all victimhood-including rape-into grounded self-reliance).
I'm in my early thirties. I have no children, no little ones whose minds and emotions are shaped by my example. I hope someday I will. I live every day with the possibility that I may not. The point is, I'm not practiced in the art of living where every action matters, of living with the awareness that I'm impacting and affecting others, others looking to me for guidance, inspiration, example. And here, suddenly, I find myself in a position where others look up to me for inspiration every day. How should I act? How can I lead by example? How might I inspire? How must I fuel ambition, passion, curiosity, kindness?
What a marvelous gift. What a grave responsibility.
I ask myself, should I project strength, should I perform the traits we want all women to believe they can and should have, or should I expose vulnerability, expose all the suffering and doubts and questions and pain and anxiety I've dealt with-and continue to deal with, just tempered-on this meandering path to this current version of me?
There is an art to exposing vulnerability to inspire good. Acting from a place of insecurity or anxiety leads to nothing but chaos. I've done it a zillion times; it's hurt a zillion and one. Having a little temper tantrum, gossiping, breaking cool in a way that poisons a mood, enforcing territory, displaying sham superiority, all this stuff sucks. Being aware of weaknesses and asking for help to compensate for them; relaying anecdotes or examples of lessons learned; apologizing; regretting; accepting a mess of a mind for the moment and trying one's damnedest not to act on it out of awareness of the damage it may cause, all this stuff is great.
I believe in the healing power of identification and of embracing our humanity. Being a strong woman leader in tech need not only be about projecting strength and awesomeness. It can be about sharing what lies under the covers, sharing what hurt, sharing the doubts. Finding strength in the place of radical acceptance so we can all say, "Nevertheless, she persisted."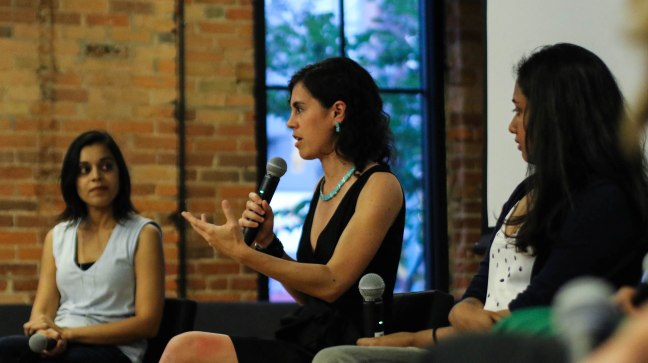 Many of the audience members reached out over LinkedIn after the event. Here is the message that touched me deepest.
It was great to meet you and hear you speak last night. Thanks for taking the time to share your experience. It is comforting to know that other women, especially ones as accomplished as those on the panel, have doubts about their capabilities too.
As sharing doubts can inspire comfort and even inspiration, I figured I'd share some more. As I sat meditating this morning, I was suddenly overcome by the sense that I had a truth worth sharing. Not a propositional truth, but an emotional truth. Perhaps we call that wisdom. Here's the story.
I had a very hard time in the last two years of my PhD. So hard, in fact, that I decided to leave Stanford for a bit and spend time at home with my family in Boston. It was a dark time. My mind was rattled, lost, unshackled, unfettered, unable. My mother had recommended for a while that I start volunteering, that I use the brute and basic reality of doing work for others as a starter, as yeast for my daily bread, to reset my neurons and work my way back to stability. Finally, I acquiesced. It was a way to pass the time. Like housekeeping.
I started working every day at the Women's Lunch Place, a women's-only soup kitchen located in the basement of an old church at the corner of Boylston and Arlington streets in Boston. Homeless and practically homeless women came there as a sanctuary from the streets, as a safe space after a night staving off unwanted sexual advances at a shelter, as a space for community or a space to be left alone in peace. Some were social: they painted and laughed together. Some were introverted, watching from the shadows. Some were sober. Some were drunk. I treated the Women's Lunch Place like my job, coming in every morning to start at 7:00 am. The guests didn't know I needed the kitchen as much as they did.
Except for one. Her name was Anne. When I asked her where she was from, she told me she was from the world.
Anne was one of the quiet, solitary guests at the kitchen. I'd never noticed her, as she hung out in a corner to the left of the kitchen, a friend of the shadows. One afternoon towards the end of my shift she approached me, touching my shoulder. I was startled.
The first thing Anne did was to thank me. She told me she'd been watching me for the better part of a month and was impressed by my diligence and leadership skills. She watched me chop onions, noticing how I gradually honed my knife skills, transferring the motions to a more graceful wrist and turning the knife upside down to scrap the chopped pieces into the huge soup pots without dumbing the blade. She watched how new volunteers naturally flocked to me for directions on what to do next, watched how I fell into a place of leadership without knowing it, just as my mother had done before me. She watched how I cared, how deeply I cared for the guests and how I executed my work with integrity. I think she may have known I needed this more than they.
For then, out of the blue, without knowing anything about my history and my experiences beyond the actions she'd observed, she told me a story.
"Once upon a time," started Anne from the World, "there was a medieval knight. Like all medieval knights, he was sent on a quest to pass through the forbidden castle and save the beautiful princess captured by the dragon. He set out, intrepid and brave. He arrived at the castle and found the central door all legends had instructed him to pass through to reach the dragon's den, where lay captured the beautiful princess. He reached the door and went to turn the knob. It was locked. He pulled and pushed harder, without any luck. He tried and struggled for hours, for days, bloodying his hands, bruising his legs, wearing himself down to nothing. Eventually he gave up in despair, sunk with the awareness of his failure. He turned back for home, readying his emotions for shame. But after starting out, something inspired him to turn around and scan the castle one more time. His removed vantage point afforded a broader perspective of the castle, not just the local view of the door. And then he noticed something. The castle had more than just the central door, there were two others at the flanks. Crestfallen and doubting, he nevertheless mustered the courage to try another door, just in case. He approached, turned the knob, and the door opened, effortlessly."
This wonderful gift I've been given to serve as a role model for other women did not come easily. It was not a clear path, not the stuff of trodden legends. It was a path filled with struggles and doubts, filled with moments of grueling uncertainty where I knew not what the future might hold, for the path I was tracing for myself was not one commonly traced before.
I've been fortunate to have had many people open doors for me, turning knobs on my behalf. My deepest wisdom to date is that we can't know the future. All we can do is try our best, always, and trust that opportunities we've never considered will unfold. When I struggled hopelessly at the end of graduate school, I never imagined the life that has since unfolded. I was so scared of failing that I couldn't embrace what it might mean to succeed. Finally, with the patient support of many friends and lovers, I gained the ability to step back and find a door that I could open with less effort and more joy.
Since I earned my PhD in 2012, I've spoken to many audiences about my experiences transitioning from literature to technology. I frequently start my talks with this story, with this gift from Anne from the World. God only knows why Anne knew it was the right story to tell. But she did. And her meme evolves, here as elsewhere. She is one of the most important mentors I've ever had, my Athena waiting in the shadows, a giver of wisdom and grace. I will forever be grateful I took the time to listen and look.
I can't figure out where the featured image comes from, but it's the most beautiful image of Telemachus, Odysseus' son, on the web. The style looks like a fusion between Fragonard and Blake. I love the color palette and the forlorn look on the character's face. A seemingly humble and unimportant man, Mentor was actually the goddess Athena, wisdom donning a surprising habit, showing up where we least expect it, if only we are open to attend.