The wittiest (and longest) tweet thread I saw this week was (((Curtis Perry)))'s masterful narrative of the life of a graduate student as kin to the life of Job: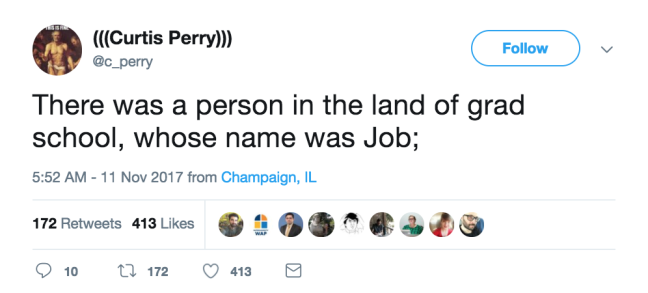 The timing of the tweet epic was propitious in my little subjective corner of the universe: Just two days before, I'd given a talk for Stanford's Humanities Education Focal Group about my transition from being a disgruntled PhD in comparative literature to being an almost-functioning-normal-human-being executive at an artificial intelligence startup and a venture partner at a seed-stage VC firm.
Many of the students who attended the talk, ranging from undergrad seniors to sixth- or seventh-year PhDs, reached out afterwards to thank me and ask for additional advice. It was meaningful to give back to the community I came from and provide advice of a kind I sought but couldn't find (or, more accurately, wasn't prepared to listen to) when I struggled during the last two years of my PhD.
This post, therefore, is for the thousands of students studying humanities, fearing the gauntlet of the academic job market, and wondering what they might do to explore a different career path or increase their probability of success once they do. I offer only the anecdotes of one person's successes and failures. Some things will be helpful for others; some will not. If nothing else, it serves as testimony that people need not be trapped in the annals of homogeneity. The world is a big and mighty place.
---
Important steps in my transition
Failure
As I narrated in a previous post, I hit rock bottom in my last year of graduate school. I remember sitting in Stanford's Green Library in a pinnacle of anxiety, festering in a local minimum where I couldn't write, couldn't stick with the plan for my dissertation, couldn't do much of anything besides play game after game of Sudoku to desperately pass the time. I left Stanford for a bit. I stopped trying. Encouraged by my worrying mother, I worked at a soup kitchen in Boston every day, pretending it was my job. I'd go in every day at 7:00 am and leave every afternoon at 3:00 pm. Working with my hands, working for others, gradually nurtured me back to stability.
It was during this mental breakdown that applications for a sixth-year dissertation fellowship were due. I forced myself to write a god awful application in the guest bedroom at my parents' Boston townhouse. It was indescribably hard. Paralyzed, I submitted an alienated abstract and dossier. A few months later, I received a letter informing me that the Humanities Center committee had rejected my application.
I remember the moment well. I was at Pluto's salad joint on University Avenue in Palo Alto. By then, I had returned back to Stanford and was working one day per week at Saint Martin's Soup Kitchen in San Francisco, 15 hours per week at a location-based targeted advertising startup called Vantage Local (now Frequence), 5 hours per week tutoring Latin and Greek around the Valley, playing violin regularly, running, and reserving my morning hours to write. I had found balance, balance fit for my personality and needs. I had started working with a career counselor to consider alternative career paths, but had yet to commit to a move out of academia.
The letter gave me clarity. It was the tipping point I needed to say, that's it; I'm done; I'm moving on. It did not feel like failure; it felt like relief. My mind started to plot next steps before I finished reading the rejection letter.
Luck
The timing couldn't have been better. My friend Anaïs Saint-Jude had started Bibliotech,  a forward-thinking initiative devoted to exploring the value graduate-level training in the humanities could provide to technology companies. I was fortunate enough to be one of the students who pitched their dissertation to conference attendees, including Silicon Valley heavyweights like Geoffrey Moore, Edgar Masri, Jeff Thermond, Bob Tinker, and Michael Korcuska, all of whom have since become mentors and friends. My intention to move into the private sector came off loud and clear at the event. Thanks to my internship at the advertising company, I had some exposure to the diction and mores of startups. The connections I made there were invaluable to my career. People opened doors that would have otherwise remained shut. All I needed was the first opportunity, and a few years to recalibrate my sense of self as I adapted to the reward system of the private sector.
Authenticity
I've mentored a few students who made similar transitions from academia into tech companies, and all have asked me how to defend their choice of pursuing a PhD instead of going directly into marketing, product, sales, whatever the role may be. Our culture embraces a bizarre essentialism, where we're supposed to know what we want to be when we grow up from the ripe of old of 14, as opposed to finding ourselves in the self we come to inhabit through the serendipitous meanderings of trial and tribulation. (Ben Horowitz has a great commencement speech on the fallacy of following your passion.) The symptom of this essentialism in the transition from humanities to, say, marketing, is this strange assumption that we need to justify the PhD as playing part of a logical narrative, as some step in a master plan we intended from the beginning.
That just can't be true. I can't think of anyone who pursues a PhD in French literature because she feels it's the most expedient move for a successful career in marketing. We pursue literature degrees because we love literature, we love the life of the mind, we are gluttons for the riches of history and culture. And then we realize that the professional realities aren't quite what we expected. And, for some of us, acting for our own happiness means changing professions.
One thing I did well in my transition was to remain authentic. When I interviewed and people asked me about my dissertation, I got really great at giving them a 2-minute, crisp explanation of what I wrote about and why it was interesting. What they saw was an ability to communicate a complex topic in simple, compelling words. They saw the marks of a good communicator, which is crucial for enterprise marketing and sales. I never pretended I wanted to be a salesperson. I showed how I had excelled in every domain I'd played in, and could do the same in the next challenge and environment.
Selecting the right opportunity
Every company is different. Truly. Culture, stage, product, ethics, goals, size, role, so many factors contribute to shaping what an experience is like, what one learns in a role, and what future opportunities a present experience will afford.
When I left graduate school, I intentionally sought a mid-sized private company that had a culture that felt like a good fit for a fresh academic. It took some time, but I ended up working at a legaltech startup called Intapp. I wanted an environment where I'd benefit from a mentor (after all, I didn't really have any business skills besides writing and teaching) and where I would have insight into strategic decisions made by executive management (as opposed to being far removed from executives at a large company like Google or Facebook). Intapp had the right level of nerdiness. I remember talking to the CTO about Confucius during my interviews. I plagued my mentor Dan Bressler with endless existential dribble as I went through the growing pains of becoming a business person. I felt embarrassed and pushy asking for a seat at the table for executive meetings, but made my way in on multiple occasions. Intapp sold business software to law firms. The what of the product was really not that interesting. But I learned that I loved the how, loved supporting the sales teams as a subject matter expert on HIPAA and professional responsibility, loved the complex dance of transforming myriad input from clients into a general product, loved writing on tight timelines and with feedback across the organization. I learned so incredibly much in my first role. It was a foundation for future success.
I am fortunate to be a statistical anomaly as a woman. Instead of applying for jobs where I satisfy skill requirements, I tend to seek opportunities with exponential growth potential. I come in knowing a little about the role I have to accomplish, and leave with a whole new set of skills. This creates a lot of cognitive dissonance and discomfort, but I wouldn't have it any other way. My grey hairs may lead me to think otherwise soon, but I doubt it.
Humility
Last but certainly not least, I have always remained humble and never felt like a task was beneath me. I grew up working crappy jobs as a teenager: I was a janitor; a hostess; a busgirl; a sales representative at the Bombay company in the mall in Salem, New Hampshire; a clerk at the Court Theater at University of Chicago; a babysitter; a lawnmower; an intern at a Blackberry provisioning tech company, where I basically drove a big truck around and lugged stuff from place to place and babysat the CEO's daughter. I see no work as beneath me, and view grunt work as the sacrifice due to have the amazing, amazing opportunities I have in my work (like giving talks to large audiences and meeting smart and inspiring people almost every day).
Having this humility helps enormously when you're an entrepreneur. I didn't mind starting as a marketing specialist, as I knew I could work hard and move up. I'll yell at the computer in frustration when I have to upload email addresses to a go-to-webinar console or get the HTML to format correctly in a Mailchimp newsletter, but I'm working on showing greater composure as I grow into a leader. I always feel like I am going to be revealed as a fraud, as not good enough. This incessant self-criticism is a hallmark of my personality. It keeps me going.
---
Advice to current students
Finish your PhD
You'll buy options for the future. No one cares what you studied or what your grades were. They do care that you have a doctorate and it can open up all sorts of opportunities you don't think about when you're envisioning the transition. I've lectured at multiple universities and even taught a course at the University of Calgary Faculty of Law. This ability to work as an adjunct professor would have been much, much harder to procure if I were only ABD.
This logic may not hold for students in their first year, where 4 years is a lot of sunk opportunity cost. But it's not that hard to finish if you lower your standards and just get shit done.
Pity the small-minded
Many professors and peers will frown upon a move to business for all sorts of reasons. Sometimes it's progressive ideology. Sometimes it's insecurity. Most of the time it's just lack of imagination. Most humanists profess to be relativists. You'd think they could do so when it comes to selecting a profession. Just know that the emotional pressure of feeling like a failure if you don't pursue a research career dwindles almost immediately when your value compass clocks a different true north.
Accept it's impossible to imagine the unknown
The hardest part of deciding to do something radically different is that you have no mental model of your future. If you follow the beaten path, you can look around to role model professors and know what your life will look like (with some variation depending on which school you end up in). But it's impossible to know what a different decision will lead to. This riddles the decision with anxiety, requiring something like a blind leap of faith. A few years down the line, you come to appreciate the creative possibility of a blank future.
Explore
There are so many free meetups and events taking place everywhere. Go to them. Learn something new. See what other people are doing. Ask questions. Do informational interviews. Talk to people who aren't like yourself. Talk to me! Keep track of what you like and don't like.
Collaborate
One of the biggest changes in moving from academia to business is the how of work. Cultures vary, but businesses are generally radically collaborative places and humanities work is generally isolated and entirely individual. It's worthwhile to co-author a paper with a fellow grad student or build skills running a workshop or meetup. These logistics, communication, and project management skills are handy later on (and are good for your resume).
Experiment with different writing styles
Graduate school prepares you to write 20-page papers, which are great preparation for peer-reviewed journals and, well, nothing else. They don't prepare you to write a good book. They don't prepare you to write a good blog post or newspaper article. Business communication needs to be terse and on point so people can act on it. Engineers need guidance and clarity, need a sense of continuity of purpose. Customers need you to understand their point of view. Audiences need stories or examples to anchor abstract ideas. Having the agility to fit form to purpose is an invaluable skill for business communications. It's really hard. Few do it well. Those who do are prized.
Learn how to give a good talk
Reading a paper aloud to an audience is the worst. Just don't do it. People like funny pictures.
Know thyself
There is no right path. We're all different. Business was a great path for me, and I've molded my career to match my interests, skill, personality, and emotional sensitivities. You may thrive in a totally different setting. So keep track of what you like and dislike. Share this thinking with others you love and see if what they think of you is similar to what you think of you. Figuring this out is the trickiest and potentially most valuable exercise in life. And sometimes it's a way to transform what feels like a harrowing experience into an opportunity to gain yet another inch of soul.
---
The featured image is from William Blake's illustrated Book of Job, depicting the just man rebuked by his friends. Blake has masterful illustrations of the Bible, including this radical image from Genesis, where Eve's wandering eye displays a proleptic fall from grace, her vision, her fantasy too large for the limits of what Adam could safely provide - a heroine of future feminists, despite her fall.