I don't know if Andrei Fajardo knows that I will always remember and cherish our walk up and down University Avenue in Toronto a few months ago. Andrei was faced with a hard choice about his career. He was fortunate: both options were and would be wonderful. He teetered for a few weeks within the suspension of multiple possible worlds, channeling his imagination to feel what it would feel like to make choice one, to feel what it would feel like to live the life opened by choice two. He sought advice from others. He experimented with different kinds of decision-making frameworks to see how the frame of evaluation shaped and brought forth his values, curtailed or unfurled his imagination. He listened for omens and watched rain clouds. He broke down the factors of his decision analytically to rank and order and plunder. He spoke to friends. He silenced the distractions of family. He twisted and turned inside the gravity that only shines forth when it really matters, when the frame of identity we've cushioned ourselves within for the last little while starts to fray under the invitation of new possibilities. The world had presented him with its supreme and daunting gift: the poignancy of growth.
I'm grateful that Andrei asked me to be one partner to help him think about his decision. Our conversations transported me back, softly, to the thoughts and feelings and endless walks and desperate desire for the certainty I experienced in 2011 as I waded through months to decide to leave academia and pursue a career in the private sector. I wanted Andrei to understand that the most important lesson that experience taught me was about a "peculiar congenital blindness" we face when we make a hard choice:
To be human is to suffer from a peculiar congenital blindness: On the precipice of any great change, we can see with terrifying clarity the familiar firm footing we stand to lose, but we fill the abyss of the unfamiliar before us with dread at the potential loss rather than jubilation over the potential gain of gladnesses and gratifications we fail to envision because we haven't yet experienced them.
When faced with the most transformative experiences, we are ill-equipped to even begin to imagine the nature and magnitude of the transformation — but we must again and again challenge ourselves to transcend this elemental failure of the imagination if we are to reap the rewards of any transformative experience. (Maria Popova in her marvelous Brain Pickings newsletter about L.A. Paul's Transformative Experience)
I shared examples of my own failure of imagination to help Andrei understand the nature of his choice. For hard choices about our future aren't rational. They don't fit neatly into the analytical framework of lists and cross-examination and double-entry bookkeeping. It's the peculiar poignancy of our existence as beings unfurling in time that makes it impossible for us to know who we will be and what knowledge the world will provide us through the slot canyon aperture of our particular experience, bounded by bodies and time.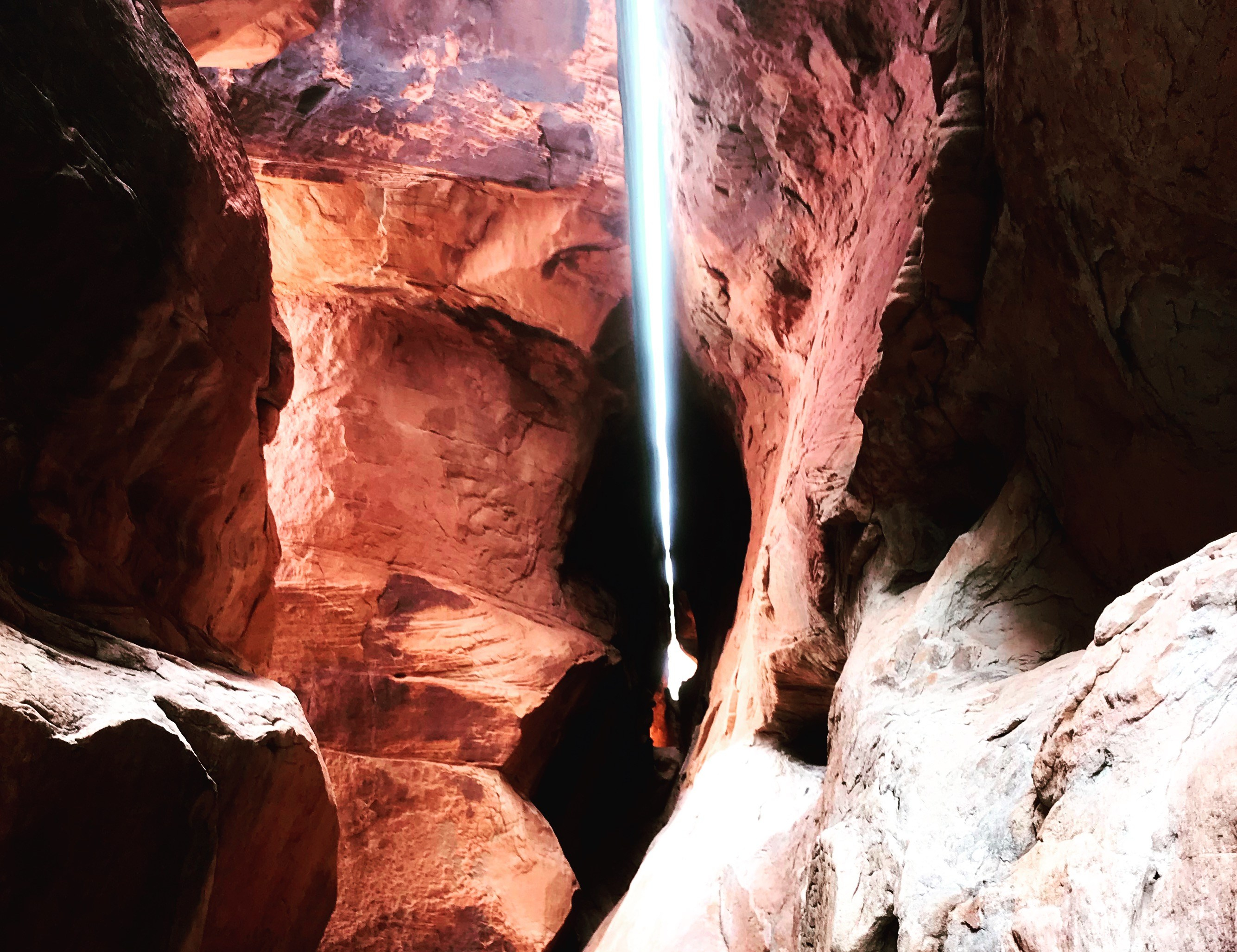 As Andrei toiled through his decision, he kept returning to a phrase he'd heard from Daphne Koller in her fireside chat with Yoshua Bengio at the 2018 ICLR conference in Vancouver. As he shared in this blog post, Daphne shared a powerful message: "Building a meaningful career as a scientist isn't only about technical gymnastics; it's about each person's search to find and realize the irreplaceable impact they can have in our world."
But, tragically or beautifully, depending on how you view it, there are many steps in our journey to realize what we believe to be our irreplaceable impact. Our understanding of what this could or should be can and should change as our slot canyon understanding of the world erodes just a little more under with the weight of wind and rain to bring forth light from the sun. In my own experience, I never, ever imagined that just two years after believing I had made a binary decision to leave academia for industry, I would be invited to teach as an adjunct law professor, that three years later I would give guest lectures at business schools around the world, that five years later I would give guest lectures in ethics and philosophy. The past self had a curious capacity to remain intact, to come with me as a barnacle through the various transformations. For the world was bigger and vaster than the limitations my curtailed imagination had imposed on it.
Andrei decided to stay with our company. He is a marvelous colleague and mentor. He is  a teacher: no matter where he goes and what he does, his irreplaceable impact will be to broaden the minds of others, to break down statistics and mathematics into crystal clear building blocks than any and all can understand. He'll come to appreciate that he is a master communicator. I'm quite certain I'll be there to watch.
What was most beautiful about our walk was the trust I had in Andrei and that he had in me. His awareness that I wanted what was best for him, that none of my comments were designed to manipulate him into staying if that weren't what he, after his toil, after his reflection, decided was the path he wanted to explore. It was simply an opportunity to share stories and experiences, to provide him with a few different thinking tools he could try on for size as he made his decision. We punctuated our analysis with thoughts about the present. We deepened our connection. I gave him a copy of Rilke's Letters to a Young Poet to help him come to know more of himself and the world. Throughout our walk, his energy was crystalline. He listened with attention rapt into the weight of it mattering. The attention that emerges when we are searching sponges sopping as much as we can from those we've come to trust. The air was chilled just enough to prickle goosebumps, but not so much as to need a sweater. The grass was green and the flowers had started to bud.
Yesterday was the first snow. There are still flowers; soon they'll die. The leaves over Rosedale are yellow and red, made vibrant by the moisture. Andrei is with his dogs and his wife. I'll see him tomorrow morning at work.
---
I found the featured image last weekend at the Thomson Landry Gallery in Toronto's Distillery District. It's a painting called "Choisir et Renoncer," by Yoakim Bélanger. I see in it the migration of fragility, hands cradled open into reverent acceptance. I see in it the stone song of vulnerability: for it is the white figure-she who dared wade ankle-deep in Hades to hear Eurydice's voice one more time-whose face glows brightest, who reveals the wrinkles of her character, who shines as a reflection of ourselves, unafraid to reveal her seashell cracks and the wisdom she acquired with the crabs. She etches herself into precision. She chisels brightly through the human haze of potential, buoyed upon the bronze haze of the self she once was, but yesterday.