This is the third post in a series about different kinds of love. The first is an incomplete taxonomy and the second is an indefinite taxonomy. More taxonomies will follow.
This gem of a post popped up on my twitter feed this week. Tim Urban posted the original on his super-awesome blog Wait But Why on December 11, 2015.[1]
The post starts by laying out the human lifespan visually, in years, months, weeks, and days.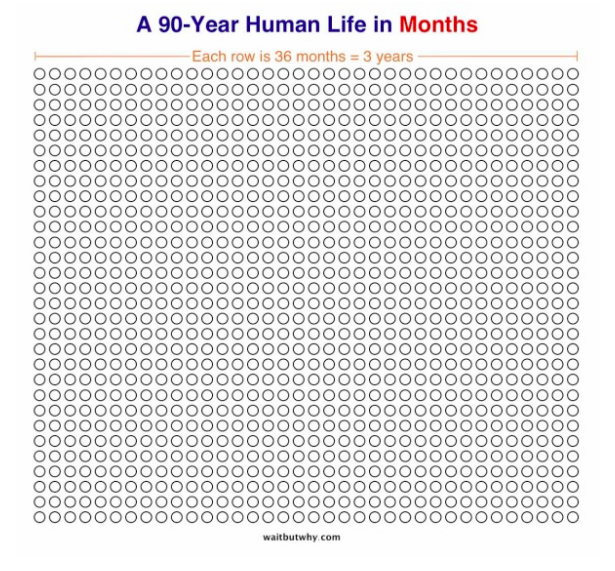 Tim goes on to measure his life in activities and events rather than units of time. When he wrote the post in 2015 he was 34 and assumed he'd live to 90. That meant, he had around 60 superbowls left and, since he doesn't love going to the beach and only goes around once a year, 60 more times he'd swim in the ocean.
I don't share Tim's visualization skills (at least not yet!), but loved his post and figured I'd apply the methodology to my own life.
---
Axioms & Assumptions
Axiom 1: I am 34-years old. Ain't nothing I can do about it.
Axiom 2: I am an early-stage startup person. My career will be spent founding companies and getting them through infancy and adolescence but when they become mature adults, it's time for me to move on and have another kid.
Axiom 3: I am a writer. I will write books. Note this is an axiom, not an assumption.
Assumption 1: I will live to be 95 (two of my great grandmothers, one from Mom's side and one from Dad's side, lived to be 98 and 102. One smoked for 80 odd years of her life and trafficked bathtub gin during Prohibition, #badass. Genes indicate decent longevity).
Assumption 2: My parents will both live to be 95 (they're in good shape).
Assumption 3: Will Grathwohl and I will continue to love one another and live happily ever after. He will also live to be 95, so I'll die before him.
Assumption 5: We will not have completely destroyed the earth in the next 61 years, so  will still have things like oceans we, turtles, whales, fish, and coral can swim in, and cities that are not yet drowned, burned, or ravished by income inequality so stark that they look like the final fantasy scene in Rainer Werner Fassbinder's 15.5-hour, 14-part miniseries Berlin Alexanderplatz[2], adapted from the amazing novel by Alfred Döblin (which doesn't get the international acclaim it deserves outside a small circle of people who read a lot of literature), sadly not a far cry from areas in contemporary San Francisco.
Deductions
24 rounds of golf with Dad
Dad loves golf. It's not a hobby: he is (provisionally?) retired, so it's become a job, an obsession, the thing he does day in and day out (Mom cringes every time she hears the thump of the 9 iron on the carpet upstairs as we practices not casting like EVERY morning). Let's assume Dad will be able to play golf until he's 87: that's only 24 more seasons of golf. At the rate we're going, I will play with him around once a year. That means, my Dad and I will only play 24 more rounds of golf together. That's few enough to remember every single round. Dad will remember every shot, mind you, and dissect them post-round with my brother while Mom and I sit there befuddled. But I'll remember the killer par 3, as well as the putrid embarrassment at just nearly throwing my club at the foursome out of self-disgust and frustration.
23 trips with Mom 
Mom and I made one of the better decision of our lives a few years ago: we stopped getting one another things for Christmas to instead split costs for a trip somewhere together, just me and her, at some point during the upcoming year. So far we've gone to Orange County (Laguna Beach is a geographical oddity, we swear all roads somehow lead back there and we hate the place with every inch of our being…), Jackson Hole, and southern Utah. We both work far harder than any sane human being should work and we both have tortured relationships to ourselves, so it can be hard for us to really talk to one another, to get under the surface available in a phone call and give and know and love. These trips are an opportunity to do that. So, Mom is dogged. It's realistic to assume she could continue taking trips until she's 90. That means, we have 28 more to go. I'm giving myself the benefit of the doubt and assuming I will have kids someday. That means, kids complications may make it so that we miss 5 trips. 23 is still a ton of trips. We'll see a lot of the world together. Mom has already seen tons of the world because she travels for work. I have inherited her Bedouin spirit. I want to walk the world. I want to touch it and have my footsteps seep history and whispers and pollen like osmosis into my soul.

102 opportunities to dance to Billy Ocean and Whitney Houston with Mike
The best (or worst, depending on your proclivities and perspective, which unfortunately tends to be how my boyfriends feel) part of being a Hume is that we dance. Like, at a Hume wedding, the whole wedding party is up dancing before we sit down to eat, all we want to do is drink and dance, we don't care about the food. Thanksgiving is a dance party (for real). The song selection inevitably includes polka hits like the Too Fat Polka by Frankie Yankovic (thanks to Dad) and, without fail, Billy Ocean's Get Outta my Dreams and Whitney Houston's I Wanna Dance with Somebody (80s songs that have outta and wanna and gotta and stuff like that). It is impossible that I will ever tire of dancing to these two songs with my brother Mike. Impossible. So, I'll be alive for another 61 years. Mike's younger, let's assume he lives at least as long (Mike, you gotta take care of yourself). Let's cut off 10 of those years as times where dancing to Billy Ocean may be tough and let's assume we average two opportunities to dance per year (weddings, 4th of July, Thanksgiving, etc…). That means we'll do Whitney another 102 times! That's too many times to remember, which is great.
1123 more books read
The good thing about reviewing all the books I read on my blog is I can count how many I read last year. I'm ashamed to admit that last year I only read 13. That sucks. I work too hard. I also use time I used to devote to reading to writing, which is a good thing. If I kept up at that pace, I'd read another 793 books. I don't plan to retire until I'm in my mid 80s (for real, I love work). Say I retire at 87. That's another 53 years of work. During many of those years I'll be super-duper-can't-see-straight busy with kids and my job and my writing. Those years I may even read less books! So let's do:
Next 3 years = challenge self to read 18 books/year = 54 books
Following 15 years (kids in the equation!) = realistically read 10 books/year = 150 books
52-80 = challenge self to read 18 books/year = 504 books
80-87 (weaning career years) = challenge self to read 25 books/year = 175 books
87-95 = more time without work, so I can read 30 books/year = 240 books
That's 1123 more books. Lots more to learn! (Tim had a much smaller number of 300, limiting himself to five books a year, outside his research - which means he reads many more books).
12 books written
I am working on my first book (unless we count my dissertation as a preparatory book-writing exercise, although I never tried to publish it). Hopefully it will be published next year. It's taken me time to come into my stride as a writer: I started my blog at 2:09 pm ET on January 2 of last year, timid and tepid, but committed to writing regularly. I'm happy I did. I now face the growing pains of shedding blog-writing habits, the Saturday- or Sunday-morning sprints that yield these 1500-5000-word posts, to cultivate book-writing habits. I'm writing every morning. The blessing of regularity is that it's ok if there are off days, it makes it possible to fathom getting started. Michel Serres, one of my mentors in graduate school, inducted me into the sanctified club of daily writers: himself, Graham Greene, Balzac, Thomas Mann, Tolstoy, Henry James, Faulkner, gosh they are all men (my friend Lucy Alford endorses the practice too). Given that I anticipate working until I'm 87 years old, it's irrational to expect I'll write a book every two years. If I mean this-which I must, it's an axiom-I could reasonably expect myself to publish a book once every 5 years. That means, I have 12 books to share with you, Reader. You may die before I do. I hope you have the chance to read some of my better work, or at least fall in love with the promise of future potential.
4784 meals cooked for Will 
I love to cook. My partner Will loves to cook. He's great at it. He's great at just about anything he does, however, including, in decreasing order of importance to him, theoretical machine learning, honesty, being a good friend, cooking, vibraphone, fashion, watching TV, mandolin, running, origami, fencing, etc.
So, let's assume I cook for Will on average twice per week during our time together. If we stay together until I die, that's 3172 weeks. I assume I won't cook much from the ages of 90-95, that Will and I, given how ambitious we both are, will spend 3 years of our life living in different places (like right now, he's in San Francisco doing an internship), that we'll travel and eat out so let's take off 2 years, and that for at least 5 years we will need help with childcare so may have someone who helps us cook. That's 46 years of my cooking twice a week for Will, or 4784 meals. We can explore SO MANY RECIPES. I still want to make a pizza with bresaola and prickly cactus nectar; want to include braised dill in a panna cotta dessert; want ricotta and cardamon stuffed savory macaroons with burnt sage.
66,795 expressions of love
I am ridiculously affectionate. Cloyingly. Used to be ashamed of it, but age helps. Let's say I utter the phrase "I love you" three times a day for the rest of my life. I will say it 66,795 times! Recall, love can encompass the many kinds in the taxonomy: friends, colleagues, mentors, parents, partners, the universe, myself, herb gardens, mentees, yoga teachers, dogs, cats, food, lots of things to love.[3]
What events and activities are worth counting in your life?
(Note that not all my axioms & assumptions were relevant for the deductions. Oh well. Stuff for a future post!)
---
[1] I've mentioned Tim multiple times on my blog, most recently criticizing a talk he gave at Google because he put forth what I consider to be a medieval, Judeo-Christian frame for assessing our future as shaped by artificial intelligence (this isn't his fault, this is the posture shared by many big names in the field). His TED Talk on procrastination is one of my favorite things on the internet and his latest post on choosing a career is a must read for anyone who takes their career seriously.
[2] Note he made this movie in 1980, so long before HBO and Netflix series existed, which is cool. But there were also literature series that appeared in magazines in the late 19th and early 20th century: Emile Zola and Henry James both authored a few.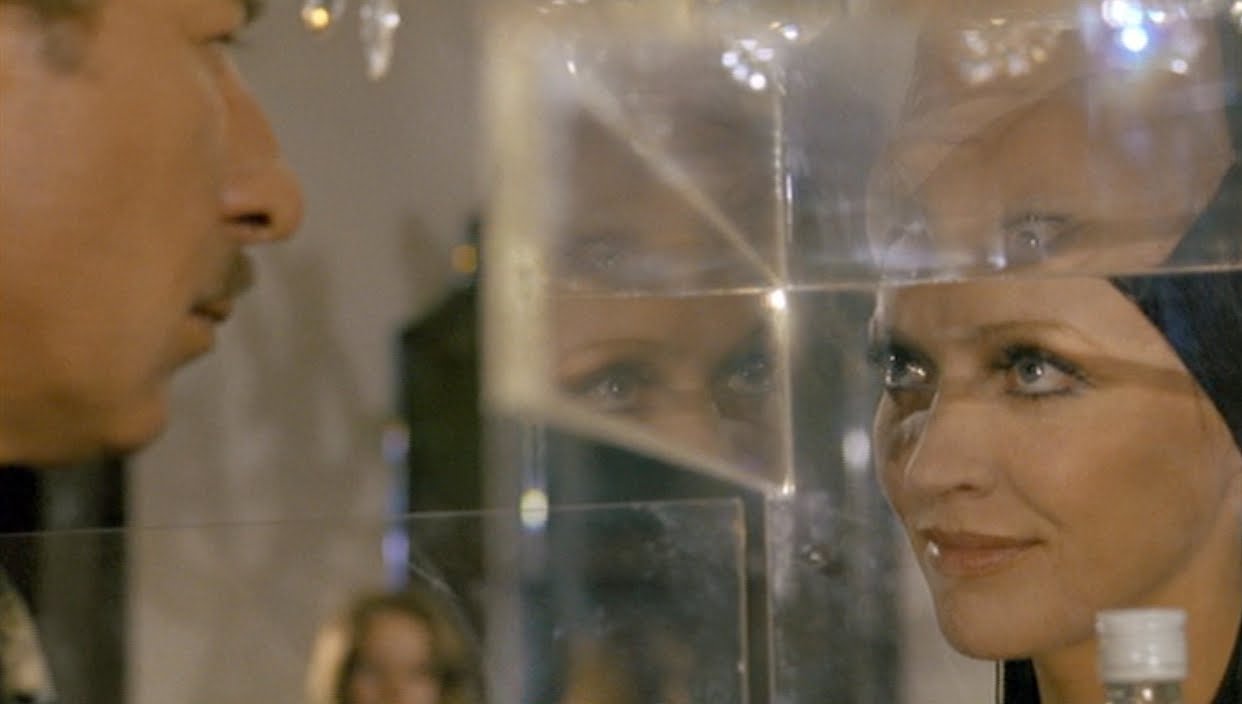 [3] I made a few edits on July 2, 2018, the day after writing this post. Now I only have 66,792 expressions of love left.
The featured image is of my Mom and me on our latest trip together. This is inside a rock called nautilus, given how it wove around like a shell. We rode horses out there in the dry Utah sun. It was a happy day, one of those days where there's no place we'd rather be.