I started a project. It's called Facebook Portraits. It has three goals:
It's like a sketch book, but writing. I practice my craft and procrastinate on my book.
It shows how Facebook can be a place for connection rather than narcissism. How we are free to choose how we use technology. How it's up to us to channel it as a force to bring us together, not divide us. But we have to work at that.
It's a contemporary twist on the age-old practice of epistolary correspondence. Just with the world reading what would have been a private letter now versus after the author dies. Which is kind of how the world works now.
Here are my first five portraits. Dear World, I offer you my sketch book.
---
Portrait 1: Sanita Skribe-Negre
We are hiring a head of people at my company, integrate.ai. The other day a candidate asked me (and the colleague interviewing with me) about past heads of people I've worked with and why I liked or did not like them.
I had the honor of telling the candidate why Sanita Skribe-Negre was the most talented leader I'd worked with. Why she was without a doubt a partner to the business, flying around god knows where and working alongside the C-Suite until 3 am to get deals done. How she navigated the tricky, delicate work of assimilating one culture into another post acquisition. How she dealt with the conflict, tension, anxiety of different business units growing awkwardly into adults. How she was thoughtful about creating company-wide performance management programs that could scale with growth, but did their best not to suffocate individuals under the strange, stifling weight of metrics and boxes and numbers.
And most importantly and meaningfully, for me, how she was a personal coach. How she put her own goal to eventually become a full-time coach into practice with a young, ambitious, emotional, self-critical, but good-hearted 28-year-old recent PhD turned entry-level Marketing Content Specialist (that's me).
A glutton for mentorship, I like to work through things in dialogue with someone I trust. Someone to whom I can expose all the thoughts, all the doubts, and know he or she will leave loving me more, not less. Intimacy evaporating awareness from the dim fog of emotion like a slot canyon squeezing light. Very different from this refracted self I offer in my writing, this I shaped by verisimilitude or analogy, by whatever mood or tone the words dictate from the outset, this I you're reading about right now (akin to the one that recently confused people in my profile picture. I was amused they thought I was upset. The picture was taken months ago, so doesn't reflect any current state of mind or heart. And the ambiguity in my eyes, sitting somewhere between happiness, sorrow, and anger, aren't native expressions, but my discomfort at being photographed, the charcoal symptoms of a fractured superego).
Sanita and I set up a cadence where we met once every three weeks to go over something that I wanted work on. Most of the time, we discussed local emotional nadirs, not goals or aspirations (admittedly the two are hard to parse, in particular when goals are inchoate, not SMART). It was a mutual arrangement: I benefitted from her presence and advice, from the confidence she gave me in shaping what I could trust was my horizon of possibility in the company (ambitious as hell, I felt perennially short changed, stuck, wanting to be VP of ANYTHING yesterday). She benefitted from putting her aspirations into action, getting early experience in the art of helping one person grow, rather than putting out fires, resolving conflicts, bringing on new hires, doing things at a system level, etc.
Here's one lesson she imparted that I still think about almost every day (and have passed on to younger colleagues).
I came in frustrated that, once again, something I'd said months ago, and which, at the time, was brushed off as nonsense, had come full circle into execution — with the credit going to someone else! I felt a flurry of entangled thoughts and emotions: why can't I communicate clearly? why does someone get credit for my idea? is this because I'm a woman so am not taken seriously?
Sanita's advice was priceless.
"Do you want to be a leader someday?"
"Of course. I will be CEO of EVERYTHING!"
"Well, then, learning how to let go of ownership of ideas, untying them from your ego, letting them grow with the team, is critical to your future success."
Why this rung of healing, of beauty.
Sanita continued, "The best way to marry accountability and autonomy for people who report to you in the future will be to plant subtle seeds and suggestions that inspire them to reach their own conclusions on what needs to be done, to shape their own goals, to feel like they have skin in the game. It's a totally different emotional relationship to accountability than that which arises from top-down plans. Early practice in renting your ideas, in becoming the sounding board and mirror for others, even though it's hard when you're younger and crave recognition, is what you will accelerate you in your growth goals."
I still struggle to communicate. I still seek recognition. But the satisfaction is dim in comparison to the immense pride in being the sounding board to help younger colleagues grow.
And Sanita will always be my coach. She'll always be my mental model for a great head of people.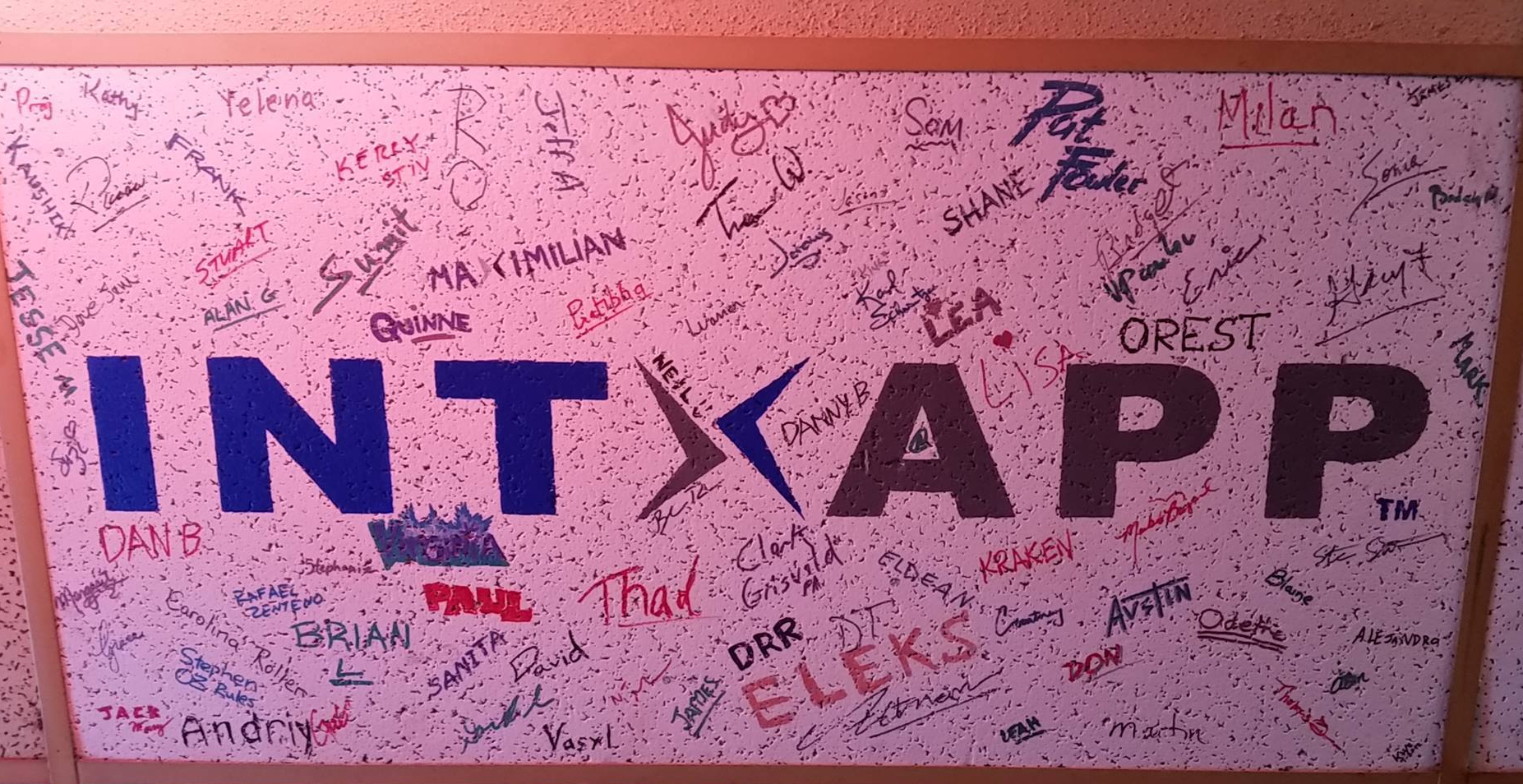 ---
Portrait 2: Jaxson Khan
"…It is what is
Sequestered. Vasari says, 'Francescco one day set himself
To take his own portrait, looking at himself for that
purpose
In a convex mirror, such as is used by barbers…
He accordingly caused a ball of wood to be made
By a turner, and having divided it in half and
Brought it to the size of the mirror, he set himself
With great art to copy all that he saw in the glass,'
Chiefly his reflection, of which the portrait
Is the reflection once removed."
- John Ashbery, Self-Portrait in a Convex Mirror, 1984, referring back Parmigianino, Self-Portrait in a Convex Mirror, 1524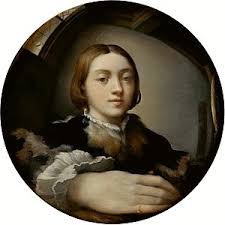 How precious, how rare, to feel so connected to and so similar to another that writing his portrait is like writing a self-portrait, only refracted in a convex mirror.
Jaxson Khan and I became Facebook Friends December 2, 2017. A mere 7 months ago. We were friends in this virtual world once removed before we were friends in the real world (post-modernists be damned!), the world of flesh, blood, tears, the smell of camomile in the coffee shop, the sound of panting pawsteps as the dog scurries forth only to scurry back again on the ravine path near Saint Claire, the world where two humans sit across from one another in a coffee shop and, slowly-deftly, with cheetah grace spurred by trust and recognition-reveal heart-thoughts to each other.
Heart-thoughts and grand ambition. Jaxson and I went into our first conversation believing what connected us was our common role at work. I started my career as a Marketing Content Specialist at Intapp in 2012 and skipped and hopped around the professional jungle gym, from Principal Consultant at a security firm to Director of Sales and Marketing at an AI research consultancy, to end up nominally leading product and strategy for integrate.ai. Jaxson and I both wholeheartedly endorse the firefly flits of the generalist; it is our lot in life to lie on the horizontal axis of the T, buoyed by our drive and curiosity, our intense need to understand everything, everything, as deeply as we can while always knowing we won't be the deepest in the group; we will be criticized; it will hurt me more than him; but I will turn to him for support and confidence as I march along this brambled path.
Jaxson is 10 years younger than I, but somehow already has the wisdom and maturity to confidently assess where he stands today and where he wants to go next. He, too, started in marketing but absolutely must test the waters of product management, if only to experiment and shape his path. To view each step in his career as data-gathering exercise to know himself, to grow not only his skills but his values and virtue as he explores. Life as a testing ground. A job as the sandbox to grow roots and shape the soul. But we learned we shared more than just marketing roles: we were both actively engaged in shaping policy around AI, doing our best to ground discussions around ethics in our daily hustle building products that used machine learning models. Yes, Jaxson, yes, it was the first shimmer along the rim of the mirror, the hint of similarity and recognition.
As the sun rose the shimmer expanded into a blinding glare. Almost too much, sometimes.
"The time of day or the density of the light
Adhering to the face keeps it
Lively and intact in a recurring wave
Of arrival. The soul establishes itself."
After our first time coffee, Jaxson took the subway back to his home in the Annex to meet his girlfriend, the woman he was confident would be his bride. Less than two months later she left for Australia, and decided not to come back.
His world broke.
I am fortunate it did. We would be friends, but it would have taken longer to probe the depths of our connection. To feel ourselves in the other's words. To be startled by the recognition.
I have watched him learn through his pain. He is extraordinary. He allows his emotions to have their place, gives them space to work and hurt as he mourns the loss of his love and gradually recovers the ability to love anew. He has taught me how to turn to friends when I am anxious, taught me that we need not ever be alone, that even when I feel that restlessness in the evening-wishing Will Grathwohl were back but celebrating his extraordinary accomplishments with the concentrated joy of us as future selves looking back upon and growing through our early time apart-I can call him and he will pick up the phone and talk with me on the train ride home, on the walk home, on the bike ride home, that he is there as constant support. That he too has felt alone. I have watched how he has solidified his brotherhood with Zachary Habayeb, benefitted from their vegan meals and the space they provide for acceptance, as if judgment didn't exist. I have watched him thrive in his job, no one suspecting what lie beneath. I have admired how he embraces his emotionality as a hallmark of a new masculinity, and how it isn't challenged for a second.
There is no possible world where Jaxson and I won't be friends for life. I will be godmother to his children (right Jax?). If not in name, in spirit. I will care for them if anything happens to him. They will sleep well at night, and be ok. Know this.
"The soul has to stay where it is,
Even though restless, hearing raindrops at the pane,
The sighing of autumn leaves thrashed by the wind,
Longing to be free, outside, but it must stay
Posing in this place. It must move
As little as possible. This is what the portrait says."
---
Portrait 3: John Alber
"Wait, you wrote a book about poisonous plants?"
"Sure I did. Dodie and I had just had the kids and we wanted to make sure they were safe with all the flowers around."
"But like, how did you find the time to study baby-safe houseplants-and study them thoroughly enough to write a book-while you were practicing at Bryan Cave?"
"Curiosity, Kathryn, and sheer force of will. And efficiency. Which law firms sorely lack. That said there's a cheshire cat joy in being a dog-headed Futurist in an industry as slow to innovate as legal services. I consider myself to have had a front-row seat in the amphitheater of human psychology. Where skeuomorphisms are an absolute must to get them to adopt anything. Where identities fizzle as the stolid edifice of white-collar prosperity quickly crumbles under cartoon anvils of outside counsel guidelines and alternative fee arrangements and Latent Dirichlet Allocation finally making it just about possible to go beyond expert systems and use machine learning for legal research, not only technology assisted review.
Did you see my article about Watson?"
"Loved it. Smart contracts make SO MUCH SENSE for tenant rights. OMG imagine how much traction we could make against access to justice issues by baking the commitment landlords have to their tenants, the commitment they have to provide a suitable, humane place to live, in this standing-on-the-precipice-of-third-world-despair of a ramshackle country we find ourselves in these days? But how would a firm like IBM overcome the innovator's dilemma and solve a problem for a smaller market? C'mon, not so much different from law firms, in particular with their customer-centric ethos. Always drags them down the slippery slope of services and mangled customizations and tech debt."
"Watson was metonymy. It's a job for startups. Go build it. We're counting on you."
"I'm not ready to be a founder yet. I still have much to learn before I can do this myself."
"Fair.
But not fair! Are you kidding me? You are starting to exemplify servant leadership. I love watching you explore it, tepidly, with the growing pains and braces of a stunning teenager. Probing the delicate balance between strength and vulnerability, finding it, making it your own, and by doing so, opening the space for expression, acceptance, healing, and growth for those around you. What's holding you back?"
"John, you know how hard I am on myself."
"There's a wonderful book by Pema Chodron called When Things Fall Apart. The notion there is that when things seem most desperate, we experience the greatest opportunity to exert a kind of compassionate curiosity about our inner workings.
All of this difficulty, all of this uncertainty can be on the path. Rather, it certainly IS on the path; we just have the chance to see it as such.
I know what it's like to be so very hard on myself. It was a condition of everyday existence. It still creeps in now and then to remind me.
Sometimes, I think we choose broken individuals as companions as a means of exercising the compassion we are so desperate for ourselves. We give THEM our hearts instead of opening up to our own humanity.
That's what it was like for me. I wouldn't acknowledge that I was flawed, that I was messily, beautifully human.
What we need for our own account is the kind of love a mother, or an aunt, would offer: unqualified, nonjudgmental, open and accepting.
Why, Pema Chodron asks, is it so hard for us to give ourselves that?"
"Because we servants we only have so much love to give, and it belongs to others. What do you remember most from your year on the boat?"
"Stillness is what I treasure most. I rise earlier and earlier to get that…try to see the sun come up down on the waterfront every morning, and be quiet enough to hear the noise it makes.
And, kittens are awwwwww…..damn!"
"Will you help me write my book? Will you be a reader?"
"I'm horrible at that. I use other people's writing as a springboard. The best I can do with my writing friends is co-springboard."
"Jesus, if my writing can spur something like this from you, I'll take it. Incredible. Brings tears to my eyes. Thank you, thank you, thank you, for being one of my most cherished mentors, for being a beacon so clearly showing what freedom and joy can arise from having the courage to just be me. For you are so grounded in yourself. John, you are Odysseus."
In response to my first blog post about love, John wrote the following:
"The love I wonder about most is what is sometimes described as the love emanating from God. Bare of religion as I am, I translate that as the love of the universe, and immediately come up against the utter brutality of the physical realms that surround us. Temperatures near absolute zero, profound vacuums, nuclear ovens…none of them in any way motherly or fatherly, nurturing or, in any human sense, loving. And then of course there is the brutality of our own tiny world, where the horrible and endless death of innocents is so ordinary as to be unremarkable. Where is the love in any of that?
Then again…
Is it love that inheres in the multiverse, that drives the eternal engine spawning new universes, that fertilizes forming worlds with the life-giving dust of exploded stars and thereby makes possible beings who speak of love? Is all love simply a derivative of that vast life-creating process? Is it really just a taxonomy of the vital forces that inhabit us all? When we say we love each other, are we simply connecting with that most fundamental imperative—the imperative to be? In some ways, I find that the most romantic love of all."
---
Portrait 4: William Hume
If the last name didn't give it away, William Hume is my dad. Imagine the laundry list of details I could include in his portrait.
I'll tell one story. I suspect he'll read it and wince just a little, concerned my writing exposes too much and baffled by how differently people reconstruct the past, especially one past moment heavied by symbolic gravity. Facts unraveled into kaleidoscope fractals, so difficult to calibrate, even though our ring size is only 4.5.
On November 23, 2016, I took my parents to the Metropolitan Opera in New York City to see La Bohème. My mom had just turned 60. This was my birthday present to her.
La Bohème is not just any opera in my family. It is a talisman. It represents a bond stronger than a wedding ring, locking together my parents' fingers in trust at the lower phalanx. No matter what comes. In the music I hear what patience and unconditional acceptance sound like. I hear the work that goes into creating a lifelong partnership, to sustaining it, to outlasting the hurdles that came so close to shattering the old-world vase, a relic of the Austro-Hungarian Empire that fights, Darwinian, to preserve its chromosomes with the pierogi dough. I hear what one couple's love looks like. My dad's love for my mom.
My mom suffered when I was a child. She tried to protect me and my brother from the pain. Her will is of iron. But the pain seeped out in ways she couldn't control, shaping my delicate limbic system, itself singed by my extremely sensitive senses (sounds are louder and smells are stronger for me than they are for most people). When her parents died, memories she had repressed for years bubbled up. They bit at her rugged ambition with the persistence of horseflies. She swatted them back and went to the meeting in stilettos and big silk bows. Only dad saw what her face looked like when she dreamed on the swing set, saw how far away she seemed under the cheerful dominants of Paul McCartney.
Her unravelling strained their relationship. It came perilously close to ending. I didn't know that: I was 6 or 7 or 8. Young. I envision myself carrying silver polish around with my black bob, but that home video was from much earlier. My hair must have started to curl, just a little, when they reached the nadir.
Mom came home. I envision a cold winter night. Cold in the way that only exists in upstate New York, where I grew up, and Canada. 8 foot snow drifts. Grey that cloaks the sky for months, starving our happiness of vitamin D. The stuff of Russians, just it's the east coast, so defaults to the caricature of the Mummers.
She came home from work, torn. He had realized that he loved her unconditionally. He was ready to communicate that.
He held her hands. He turned on Puccini. Che gelida manina.
What a frozen little hand. Let me warm it for you.
I don't know how often my parents hear che gelida manina in their minds. I don't know what emotions it incites in them when it comes on.
They must be powerful. For, at the very inkling of the chords, in the very cusp of Pavarotti's tenor, time collapses for me. I go back to 27 Highland Drive. To the tiny little house they bought for $13,000, nothing to their name but the promise of the future.
I am grateful that he loves her the way he does. When my dear friend Julien Rosa met them in Paris years ago, he told me the image that left the strongest impression on him was how my father looked at my mother.
My father taught him something profound about what it means to love.
---
Portrait 5: Michael D'Souza
I have this friend Michael. He and his wife Colleen just got back from a 14,317-kilometre drive around god-knows-where in Canada. They didn't care how long it took. They didn't watch the clock, for that would have compromised their rapt attention to their surroundings and their gentle awareness, like water by now, of the other's presence. Their destination was Tuktoyaktuk, which means "looks like a caribou" in Inuvialuktun (Western Canada Inuit). They told me that hotel rooms in Tuktoyaktuk follow a peculiar supply and demand curve: as there are only 3 beds for rent in the city-not 3 hotels, 3 beds-they can be relatively pricey. During his trip, Michael populated his Facebook feed with stillness. Lakes and lines of bread and bears and prairies and hummingbirds and bison and mountains. All still. All gleaming.
I met Michael on July 28, 2018. I was a guest at one of his famous dinner parties, courtesy of the inspirational Charlie Oliver. "Do you have any food restrictions?" "Nope, omnivorous." "That's just the kind of people we love!"
I had just recently moved to Canada. Was still tiptoeing through the little hits of loneliness and bemusement at finding myself, once again, in a new city: I've lived in many places and self-identify as a cosmopolitan nomad, though I'd love to stay put for the someday kids. Being welcomed by Michael and Colleen, therefore, was extra special. I had somewhere to go on a Friday night.
I didn't expect to meet a best friend. My Toronto Dad.
Michael is also close to enlightened as we mere mortals get.
He is a lover and creator of beauty. He rolls his beet petals into roses, pickles them mildly so they are sweet without turning acrid. He serves the sorpotel, spiked with Feni, a Goan cashew liquor, in elegant Korean pottery, basks it in matte grey. He walks miles to ensure the strawberries are crimson, the tomato skins burst with the right pressure, the fish isn't fishy. He puts capers in the mashed potatoes and shapes them into leaves baked brown. He and Colleen prefer not to eat out. They have too much to create at home.
He is a lover of and fighter for people. When I say fight, I mean fight. Michael spent his career working at the CBC. He has seen all the people. But he didn't document them: He learned about them, respected them, opened the curtains wide onto the uniqueness of their culture and their personhood. He regularly corrects my cultural faux-pas, my maladroit misspellings of languages and religions, my imprecision in attempting to write about others. Michael pays attention to cultures with surgical precision. He titrates myths and stories. The seats at his dinner table are filled with doctors and human rights advocates and journalists and AI researchers and ambitious, young, striving, wonderful women from all over the world, women like Anne T. Griffin, another one of Michael's daughters, like myself.
He is a lover of deadlines. Having spent a career as a journalist, Michael knows that things remain akimbo in limbo unless we have a deadline to birth our creativity, the 9-month mark where it's either through the canal or a C-section. He keeps me on track, perhaps unaware. He seems to read everything I write. He seems to appreciate it. I cannot express how meaningful it is to me to have a reader who cares, who takes the time, who engages and corrects me.
He is a lover of grace. He carries himself quietly, sipping his wine without garnering too much attention when he's in public. The dapper elegance of someone who always wears a tie. His demeanor carries with it his long history, the childhood in Pakistan and Goa. But when he is at home, comfortable, free, he laughs out loud. Shrills in joy. The kind of laugh that emerges from a clear conscience.
July 28 is a Saturday, and unfortunately (though very fortunately!) I have dinner plans at Actinolite that evening. Michael, I trust you'll have me for dinner on the 27th to celebrate the anniversary of what cannot but be a lifelong friendship.
---
More to come…
The featured image is of my dad and me on Father's Day in 2017. I had just come back from a conference in Paris. We were about to eat oysters with my brother and his girlfriend.